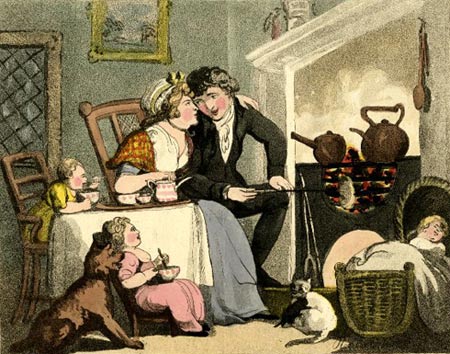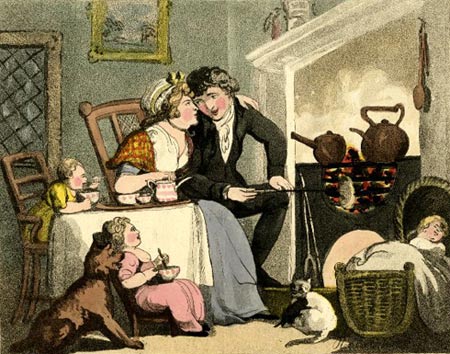 © Trustees of the British Museum
From Essex to Suffolk and back again
EdwardII was the second child of Edward WadeI and his wife, Elizabeth Cardinal. He was baptised in Layer-de-la-Haye on 5th March 1769, where the family appear to have lived for about ten years from at least 1767. By April 1776, they had moved to Polstead, presumably because EdwardI was working for the Cooper family there, who had connections in Essex with Layer-de-la-Haye and Fingringhoe.
On 4th March 1782, EdwardII was apprenticed to Joseph Chippington, a wheelwright in Stoke, Suffok. There are several places in Suffolk referred to as Stoke (Stoke Ash, Stoke-by-Clare, and then Stoke, an area of Ipswich), however, Stoke-by-Nayland is a neighbouring parish of Polstead, so it seems likely to be where Chippington was based (there are also several baptisms in Stoke-by-Nayland for children of Joseph Chippington in the 1780s). Working with wood was popular with the Wade family – three of EdwardI and Elizbeth's sons worked in this field: William and Edward became wheelwrights, and Thomas became a carpenter. It was only Samuel who bucked the trend and worked as a coal merchant.
By the late 1780s, or at least from 1790, judging by the dates of the Wade children's marriages, the family were back in Essex. It's worth noting that, while EdwardI and Elizabeth marked when they married in 1767 (although Elizabeth's mark is a letter E, which suggests she wasn't illiterate), all of their children signed when they married, and when they witnessed each other's marriages, which shows that their parents had the means to educate them. EdwardII's older brother, William Cardinal Wade, the eldest of the Wade children, married in Tendring in 1785, and EdwardII's sister, Elizabeth, was married in Fingringhoe in 1790. EdwardII took his turn as the groom in Fingringhoe on 14th May 1791, when he married the twenty year old Sarah Pritchett, who at the time lived in the parish of St. James in Bury St. Edmund's. She was the daughter of William Pritchett (1745-1802), a vintner, and Sarah (possibly née Dakin, 1746-1825). The Pritchett family are a rather mysterious group, who don't appear to have originated in Bury St. Edmund's, and warrant their own article.
It seems at first that a wheelwright in Fingringhoe has no business marrying a vintner's daughter from Bury St. Edmund's, but it's possible the couple met while the Wades were living in Suffolk, although that said, Bury St. Edmund's is still over twenty miles away from Stoke-by-Nayland, where EdwardII was apprenticed. It could be that the Pritchetts had a connection with Stoke-by-Nayland, or Chippington did, or it could be that the enigmatic link between the Wades and Cooper/Whittaker families played a role: did the Coopers in Suffolk know the Pritchetts in Bury St. Edmund's, and did they introduce EdwardII and Sarah? If they did, then I should like to take the opportunity now to thank them!
There is a tantalising suggestion that the Pritchetts did know the Cooper/Whittaker clan, as the witnesses of EdwardII and Sarah's marriage were Wm. Pritchett (presumably Sarah's father) and Mary Waynman. This is almost certainly Mary, the wife of Thomas Waynman (1755-1796), and when Mary married again in 1797, Sarah Wade was her witness – this seems to be Sarah (née Pritchett). Mary Waynman was born Mary Marsden in about 1763, and she married Thomas Waynman in 1782. Thomas' father was William Waynman (1713-1762), and his mother was Sarah Cooper (1712-?). It would appear that he was named after his maternal grandfather, Thomas Cooper, who died in Polstead in 1771. Thomas' uncle, Thomas Cooper jnr (1723-1782), moved from Suffolk to Fingringhoe and is buried just behind the grave of EdwardI and Elizabeth Wade. Now, it could be that Mary witnessed the 1791 Wade marriage, not through a link to the Pritchetts, but because of the family connection between the Wades and Coopers, but if this was the case, it seems a friendship had grown between Sarah and Mary by the time of Mary's second marriage in 1797. When Sarah Pritchett's father died intestate in 1802, one of the people who appears in the letters of administration is Samuel Rayner, a cooper (by trade, rather than by surname!) of Colchester; it may be significant that Sarah Cooper's first husband (whom she married in 1738 in Wivenhoe) was John Rayner – if I could identify Samuel Rayner, it would be very interesting, because he could be, perhaps, a nephew of Thomas Waynman by one of his half-siblings. It seems that John Rayner and Sarah Cooper's son, William (1751-?), was a farmer in Polstead in the 1770s, from a marriage at Fingringhoe in 1773 between William Rayner and Mary Archer – he might be the man who employed Edward WadeI. Samuel Rayner could be William Rayner's son. And if William Pritchett, as a vintner, knew Samuel Rayner through his work, that could well be the connection which led to my 5 x great-grandparents' marriage. There is more about other aspects of the Cooper/Whittaker/Wade links in the section on Edward WadeI and Elizabeth Cardinal.
I know this might seem like tedious speculation to some, but where the Pritchetts' origins are a complete mystery, and where we can't get back beyond the mid-1700s because of the loss of the Layer-de-la-Haye registers, the repeating names and the intriguing relationships which appear when people witness each other's marriages, stand as executor to a will etc. are the only clues left. But as we move into the nineteenth century, the facts surrounding the family become a little more concrete.
The Wade children
EdwardII and Sarah Pritchett had nine, possibly ten or eleven children, who were all baptised in Fingringhoe.
Edward Pritchett, 18th Nov 1792 (born 5th July)
Sarah Louisa, 21st Sep 1794 (born 9th June)
Charles Whittaker, 29th Oct 1797 (born 5th April 1796 – my 4 x great-grandfather)
Charlotte, baptised the same day as Charles (born 26th Sep 1797, died in April the following year)
George Augustus, 28th June 1801 (born 30th Jan 1799, died, presumably unmarried, in 1825)
Harriet Leorenda, baptised the same day as George (born 22nd Jan 1801, her middle name is spelt 'Lurenda' on her burial in 1826)
Leonora (no baptism found. Appears in the burial register as an infant, on 13th July 1803, without parents mentioned. She is the possible tenth child of EdwardII and Sarah)
Eliza, born about 1806. I am yet to find her baptism. Please see my note below about her – she is the possible eleventh child of EdwardII and Sarah.
Charlotte Lucretia, 13th Sep 1807 (born 21st Aug, died in May the following year)
Joseph John. He was received into the church (presumably having been baptised privately before) on 13th May 1812. His age fluctuates in the censuses, giving him a year of birth around 1809 or 1810. His cousin James Jaggard (son of Thomas Jaggard, and Sarah Pritchett's sister, Charlotte) was received on the same day.
Augustus William, 23rd February 1813. Being the only child baptised post-1812, his is the only baptism which gives Edward's occupation: wheelwright.
It is no surprise that so many people along the Colne can trace their family back to the Wades, as Edward Pritchett Wade had six children, Charles Whittaker had eleven, Joseph John had three and Augustus William had seven by his first wife and four by his second – that's thirty-one grandchildren – at least.
None of EdwardII and Sarah's daughters had children (although see below about Eliza), as far as I can tell: Charlotte, Leonora and Charlotte Lucretia died in childhood, and Harriet Leorenda died unmarried in 1826 without appearing as an unmarried mother in the baptism register. Sarah Louisa disappears after her baptism – it may be she also died in childhood and her burial wasn't recorded, or that she married elsewhere.
You may also notice that as well as the repeating middle names making an appearance (Edward Pritchett and Charles Whittaker – but strangely no Cardinals), we see names which we might recognise from the Pritchett family: we know Sarah had a sister called Charlotte, and I suspect she also had a sister called Harriet, and possibly one called Louisa (they were popular names at the time, of course, but more popular were the names Mary and Elizabeth, which the Wades didn't choose, which leads me to suppose they named their daughters after members of the Pritchett family). And we also see the first appearance of, shall we say, interesting first names: Augustus, Leorenda, Leonora and Lucretia. Charles Whittaker Wade, as we shall see, chose some splendid names for his children: he had sons called Hezekiah and Cornelius, and a daughter called Lurenda (presumably in tribute to his sister, Harriet Leorenda/Lurenda), as well as repeating Cardinal and Pritchett as middle names. His son, Edward Pritchett Wade (not to be confused with his brother), seemed similarly fond of unusual names and had a son called Theophilus. By this time, Charles had moved his branch of Wades to East Donyland (Rowhedge), and the residents of that village show an extraordinarily creative approach to naming their children. My favourite of all (and he is related to the Wades, but of course) has to be Lemon Simpson Everitt Cranfield (1841-1912), who was a master yacht captain and sailed in the America's Cup – and he named his daughter Lemontine…!
Enigmatic Wades – George and Eliza
George Wade
There is a mystery George Wade who I came across in the will of William Jaggard (1791-1838), step-son of Charlotte Pritchett.[1]William Jaggard is the son of Thomas Jaggard (1758-1812) by his first wife, Jane or Jean Williams (1759-1799). He had two children by his first wife, Ann. I have been unable to locate their marriage, … Continue reading William says that George is his natural son, and that George is "completely undefended", which suggests his mother has died. I cannot find a baptism for him in Fingringhoe, so cannot identify his mother, but it is likely to be the same person who appears on the 1841 census in Fingringhoe, named George Jaggard. He was 15 and living with William's legitimate son, also called William (1818-?), so it would seem that he was accepted by his half-brother. His age on the 1841 census would give him a rough date of birth of 1826 – the same year that Harriet Leorenda Wade died, so it might be that George is another grandchild of Edward and Sarah. Sadly, I can find no more trace of George after 1841.
Eliza Wade
When researching Samuel, EdwardII's youngest brother, I found that on the 1851 census, he has a 19 year old niece called Eliza Ross living with him, who had been born in Colchester. I investigated the Ross family, and found out that Eliza Ann Elizabeth Ross had been baptised at Colchester All Saints on 16th May 1830. Her parents were Andrew and Eliza Ross of St. Botolph's parish, and her father was a tailor.[2]St. Botolph's was long a ruin, and so parishioners had to use All Saints. I found Andrew and Eliza's marriage: 8th October 1827, again at All Saints. They were both of St. Botolph's, and Eliza's maiden name was Wade. The witnesses were Sarah Pratt, and then three Wades: James, Mehalah and Shadrach. I'm not sure who James is, but Mehalah and Shadrach are probably children of Samuel Wade, baptised in 1804 and 1808.
I continued – Andrew and Eliza had six children altogether. Eliza Ann Elizabeth, Georgina Louisa and Samuel Andrew were all baptised in Colchester between 1830 and 1834, but their last three children, Caroline Amelia, Mary and William, were baptised in Wivenhoe between 1836 and 1838.
William and Mary were twins, born on 10th March 1838, and Eliza was buried in the churchyad at Wivenhoe less than three weeks later, on 27th March. She was 32.
No other clues have appeared to suggest who Eliza's parents are. I can only look at the three possible fathers and try to work it out from there. William Cardinall Wade had died ten years before Eliza was probably born (about 1806), but there are still three other Wade men who could be her father: Thomas, Edward and Samuel were all married at this point. There doesn't appear to be a gap in Thomas' children where Eliza could slot in, so he seems unlikely. Edward seems more plausible – there is a gap where Eliza could fit (Leonora, possibly Edward and Sarah's daughter, buried in 1803, then no other baptisms until Charlotte Lucretia was born in August 1807). But we also have to consider the rather loose way censuses were compiled sometimes, as well as terms like "aunt" and "cousin" not meaning what we expect: Samuel's son Shadrach was baptised in 1804, and his daughter Hannah Mehela was baptised in 1808 – Eliza, born about 1806, would fit in perfectly. And of course, Shadrach and Mehalah were witnesses of Eliza's marriage to Andrew Ross.
Eliza on the 1851 census, Samuel's "niece", would, as the granddaughter of his brother, be his "grand-niece" anyway. However, it's not beyond the bounds of possibility that she was in fact Samuel's granddaugher, and "niece" was a mistake, or used as a catch-all. Sadly, I'm not quite sure how we can ever know for certain, beyond perhaps autosomal DNA testing of descendants. So Eliza will have to float, as a possible child of either Edward or Samuel. Samuel seems most plausible, though, considering two of Eliza's children lived with Samuel at various points, and she moved to Wivenhoe from Colchester, where she died in 1838. Naming her first son "Samuel Andrew" might be very suggestive – the child being named after his grandfather as well as his father, maybe. Perhaps a baptism somewhere I haven't thought to look yet will answer us… perhaps not.
 Edward WadeII, wheelwright
There are records of EdwardII taking on two apprentices – John Salmon, in May 1792 (just before the birth of his and Sarah's first child), and in 1804, Thomas Moulton. ERO hold some bills pertaining to repairs carried out by Edward Wade in 1813, for Sir James Affleck, at Hall and Wick Farms, in the records of the Manor of Fingringhoe[3]D/DU 207/50 – this could be Edward WadeII or possibly his eldest son, Edward Pritchett Wade (who would have been 21), and if so, it suggests that EdwardII worked as a carpenter as well as a wheelwright. They are on my list for things to check when I next visit the archive.
The possible servant
As mentioned in the entry on William Cardinal Wade, the 1810 settlement examination of Eleanor Quilter of St. Osyth says that she was employed in 1806, for nearly eighteen months, by a Mrs. Wade of Fingringhoe. The settlement gives no more information, and my guess is that "Mrs. Wade" must be either William Cardinal's widow, Ann Gilbert Wade, or EdwardII's wife, Sarah.
Fade to:
I can tell you nothing more about EdwardII and Sarah – they left no wills, no portraits (as far as I know), no letters. They did nothing noteworthy or naughty enough to warrant an appearance in the press. Unlike their parents, no memorial inscriptions remain in Fingringhoe churchyard, though they were buried there – Sarah, on 17th December 1826, aged 55, and Edward, on 14th May 1837, aged 68.
Image: "The Comforts of Matrimony, a good toast" by Thomas Rowlandson, 1809. © Trustees of the British Museum
Footnotes

↑

1

William Jaggard is the son of Thomas Jaggard (1758-1812) by his first wife, Jane or Jean Williams (1759-1799). He had two children by his first wife, Ann. I have been unable to locate their marriage, but she was buried in Fingringhoe in 1821, aged 30. Their children were William (1818-?) and Jane (1819-?). William senior married for a second time on 22nd May 1827, 19 year old Elizabeth Jay of Greestead; sadly she died in November of the same year. It seems likely that his natural son was born between these two marriages, so making it increasingly possible that George Jaggard in the 1841 census, aged about 15, is the George Wade from his will. If Harriet Leorenda Wade was George's mother, then perhaps William intended to marry her, and that George was their walking-out child, but her death intervened.

↑

2
St. Botolph's was long a ruin, and so parishioners had to use All Saints.

↑

3

D/DU 207/50