One of the pleasures of transcribing parish registers are the intriguing marginalia that turn up in them sometimes. I'm yet to find a pre-1813 parchment register that hasn't had at least something of interest turning up in it – be it a weather report, a murder, or a runaway single mother. West Bergholt's has some fantastic notes which slip in and give us a tantalising view of the otherwise vanished past.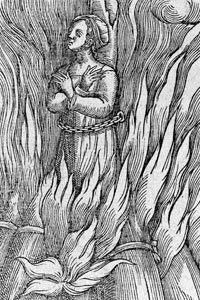 Bloody Mary
Queen Elizabeth I came to the throne on 17th November 1558, and the earliest surviving entries in parish registers tend to begin from the late 1550s. The earliest date in West Bergholt's1)ERO ref: D/P 59/1/3 is a baptism on 19th November 1558 – "Elizabeth the dawighter of John Barnard." But there is a note at the front of the register, in the handwriting of Sackville Turner, rector in the 1700s, about West Bergholt resident Agnes George:
Agnes George, the wife of Richard George of West-Barefold, Husbandman, was in company wth 12 others burnt at a Stake, for her Religion in Queen Marys Reign, at Stratford le Bow near London.

Note the said Richard George had another wife burned beside her, in the Postern at Colchester, & himself lay in Prison till Q. Elizabeth came to the Crown, & then was deliver'd.

See Acts & Monuments p. 1525. See Page 592. Vol 3 for an account of the above 13 Martyrs.
Acts & Monuments is also known as Foxe's Book of Martyrs. It is free to look at online, where you'll find that the quotation in the register has been taken verbatim from Foxe's book. There is information on the eleven men and one other woman who were martyred with Agnes, most of whom were from Essex too – from places such as Wix, Great Dunmow, Chipping Ongar and Colchester. There is also an engraving of the thirteen being sent to their deaths.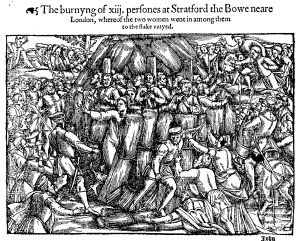 Interestingly, on the very next page of the register, there is a baptism from 1561 of "Dannell", son of Richard George: presumably Richard had moved onto wife number three.
The King's Evil
As well as being a brilliant name for a death metal band, The King's Evil was the name given to scrofula2)Technically known as "tuberculosis cervical lymphadenitis" – it can be tubercular or non-tubercular., an infection of the lymph nodes of the neck. It was believed that, because the monarch was ordained by God, they had a blessed touch which could cure the ill – so anyone with scrofula could, it followed, be cured by the monarch's touch.3)Imagine going to Buckingham Palace, not to receive an OBE, but to be touched by Elizabeth II. I have a quite unpleasant cold at the moment – might she be able to cure that?! Queen Anne was the last British monarch to perform it – and the last scrofulous person she touched was, apparently, Samuel Johnson.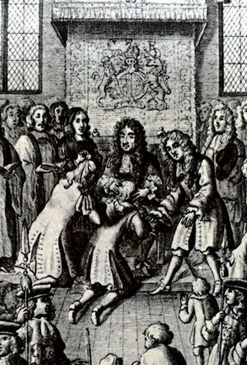 But what has this to do with West Bergholt? The register which was used for recording affidavits for burials in woollen4)ERO ref: D/P 59/1/3 has, at the back, a certificate for Mary Bigsby, "a poor maid of this town". She was diagnosed as having scrofula by Dr. Vaughaune of Colchester, and the certificate says "that she hath not at any time been touched by his sacred majesty to the intent to be healed of that desease." It is dated 19th March 1683, and a note below it says that a "a like certificate was made for Elizabeth the wife of Cornelius Michellfield" in 1686.
A similar record survives from Kempston in Bedfordshire, which further explains that a list be made up of those parishioners who have scrofula, and that they were to be given a certificate so that they could be touched by the king.
The same handwriting that quoted from Foxe's book of martyrs appears again – Sackville Turner provided a list of references for physicians writing on the subject of the King's Evil. It really is an eye-opening note to find in a parish register, reminding us of the different approach to illness people had in the past, however, if you search ERO's catalogue, you'll find it comes up in other registers in Essex, such as Kelvedon and Colchester St. Runwald.
Sackville Turner announced at the front of the register for 1734-17715)ERO ref: D/P 59/1/4 that he was inducted into the living on 24th June 1734. There is a note on the next page saying that Turner died in 1756, but he wasn't the only West Bergholt rector who enjoyed adding more to the register than mere names and dates.
Poetry and family trees
Aside from religious persecution and superstitious approaches to curing disease, someone has quoted a line from Alexander Pope on the first page of the register covering 1772-1812:
Here To be born & die
Of rich & poor makes all the history.6)"Go, search it there, where to be born and die, Of rich and poor makes all the history." Pope, Moral Essays.
This highly appropriate quotation (which tickled me so much, I put it on the front of this very website, so succinctly does it some up genealogy) is in the handwriting of Joseph Fisher. He made several notes in the registers. When he was inducted in 1784, he made a note in Latin, and then he made a note that on Christmas Day 1797 he made John Risbey7)A note in the burials register 1813-1868 records the burial of James Spooner, who was murdered by George Risbey – a relative of John Risbey. the parish clerk, "in the room of John Gridley who is render'd incapable by Blindness." Which he wrote in English.
Fisher went back through earlier registers, helpfully – for anyone related to him – identifying his ancestors.  Joseph Fisher of Great Horkesley was buried in West Bergholt in 1712 – a note added in 1785 says "Father of the Grandfather of the present Rector." In 1724, Mrs. Fisher of Boxted was buried, and also in 1785, a note was added: "Great Grandmother of the present Rector of W. Bergholt."
The Essex accent
My own interest in West Bergholt stems partly from the fact that some of my ancestors lived there for a time. Call them Allston, call them Austin, call them Aston, it's all a bit confusing, and poor old Sackville Turner had to put down his copy of Foxe's Acts & Monuments for long enough to make the following note in 1747:
"NB: Whereas I have frequently (through misinformation) in registering the children of two distinct families in the Parish known commonly by the name of Austin, call'd the Parents of those children sometimes by the name of Alston, & sometimes Austin; I would hereby notify, yt the respective Parents shd have been always written Robert Alston, & Richard Austin."
I'm still not sure exactly what surname each family is mean to have – certainly Richard Austin's family took Allston and Alston as the spellings of their name. The Essex accent struggles with the letter L – I find my own surname is more easily pronounced Barrew, rather than Barrell, so I can sympathise with Turner's own confusion: Alston and Austin are pretty much indistinguishable in a north Essex accent. I think Turner may have become confused by the surnames Hayward, Howard and possibly Harrod and Heard, too, but that's for another time.
| | | |
| --- | --- | --- |
| 1, 4. | ↑ | ERO ref: D/P 59/1/3 |
| 2. | ↑ | Technically known as "tuberculosis cervical lymphadenitis" – it can be tubercular or non-tubercular. |
| 3. | ↑ | Imagine going to Buckingham Palace, not to receive an OBE, but to be touched by Elizabeth II. I have a quite unpleasant cold at the moment – might she be able to cure that?! |
| 5. | ↑ | ERO ref: D/P 59/1/4 |
| 6. | ↑ | "Go, search it there, where to be born and die, Of rich and poor makes all the history." Pope, Moral Essays. |
| 7. | ↑ | A note in the burials register 1813-1868 records the burial of James Spooner, who was murdered by George Risbey – a relative of John Risbey. |