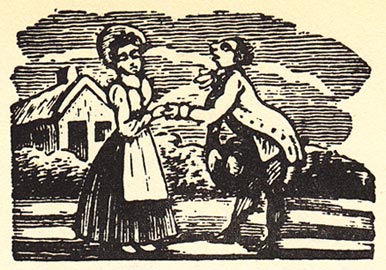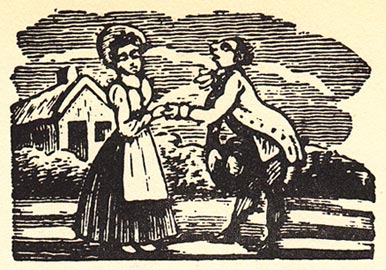 Banns registers aren't usually considered that important for family history research – after all, we only need to look at marriage registers, because we're interested in the successful marriages that produced our ancestors. Aren't we?
The availability of banns registers isn't as complete as marriage registers, perhaps for this very reason. For instance, Essex Record Office has only included banns in their scanning project where they have been entered in a marriage register (as you sometimes find between 1754-1837), or where a banns register has been bound with a marriage register. Banns registers on their own aren't included.
Usually, they don't tell you much. They give the names and sometimes the abodes, and sometimes the marital statuses of those wishing to marry, and the dates on which the banns were published in the church. They can be useful if you're fairly sure someone got married and you want to know which parish it took place, or if the marriage register for the other parish has been irretrievably lost, so providing you with a rough date for their nuptials and the bride's surname previous to her marriage.
Sometimes, however, you'll find the banns for a marriage that never took place, and you're left wondering what on earth happened. Who changed their mind? Did someone find a legal objection to their union? Most of the time, we're left with no clue and have to scratch our heads in wonder (particularly if you find someone who serially gets to the second reading of the banns before bailing out!). However, the banns for East Bergholt, between 1783 and 1803, provide reasons for the cancelled marriages, and they give us an interesting insight into late eighteenth century lives, and attitudes towards marriage.
Minors
Until 1970, the age of majority in the UK was 21. This meant that, although in the late eighteenth century the legal ages at which a couple could marry was 12 for females and 14 for males, parental consent was required to marry by licence, and they could marry by banns as long as a parent did not forbid the banns.
And in East Bergholt in 1783, we see John Hall, father of Abraham Hall, objecting to his son's marriage to Sarah Lemmon. The banns had been read twice – on 17th and 24th August, but a note in the banns register says "Forbidden by John Hall, father of Abraham – the son being a minor." Quite how old Abraham was isn't clear as I haven't found his baptism in East Bergholt (there is a baptism for Isaac, son of John and Martha Halls in 1756, which may be connected). However, Sarah Lemmon appears to be the illegitimate daughter of Sarah Lemmon, baptised on 19th January 1766, which would make her 17 at the time, and still in her minority.
This tale of parental intervention has a happy ending, however – Abraham and Sarah proved their devotion to each other and were married, eventually, on 22nd February 1785. Sarah was still underage, but her mother[1]who possibly married William Chapman in 1771, and may be the Sarah Chapman who died in East Bergholt in 1819 coould not object – legally, an illegitimate child needed no permission to marry underage as they didn't officially belong to anyone.
But in 1795, another father forbade the marriage of his underage child. Just after Christmas, on 27th December 1795, banns were published for the first time between William Templer, a bachelor, and Kitty (or Hetty) Gillingwater, a spinster[2]The banns register says "Kitty" but it is possible that a combination of poor handwriting and microfiche means it should read "Hetty" instead. They were read once, and once only, because her father stepped in. William Templer doesn't appear to have been from East Bergholt (his name is the only time the surname Templer appears in the years I have transcribed), although no other abode is given in the banns register, so he was probably living there at the time. As for the would-be-bride, Hetty, daughter of James and Martha Gillingwater, was baptised in East Bergholt in 1777. This would have made her 18 at the time of her attempted marriage. Her relationship with William didn't last[3]If, that is, Hetty and Kitty are the same people. – Hetty married James Kinsey, from Ipswich, in 1797.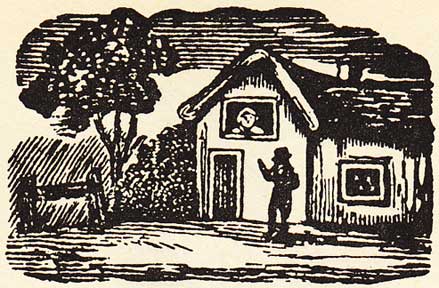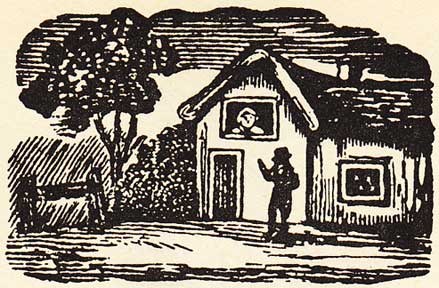 Cold feet
On 19th May 1793, banns were published between a local couple – William Hicks (possibly the son of Daniel and Elizabeth, baptised in East Bergholt in 1769) and Mary Chaplin. But they were only published once – the bride-to-be forbade further publication. But look again in the marriage register, and they were married just over a year later on 2nd November 1794. What had happened to change Mary's mind?
The baptism register perhaps provides this answer – on 23rd June 1793, Mary Chaplin's illegitimate daughter, Mary, was baptised. Her date of birth appears in the register: 26th May 1793. On the very day that the second reading of the banns was due at the church, Mary gave birth to her child.
Now we don't know why she called off the marriage – perhaps William wasn't the child's father, although a "walking-out child" at this point in history wasn't unusual. But it would seem that the birth of her child temporarily put Mary off the idea of marrying William.
The inconstant Mecklenburghs
John and Maria Mecklenburgh weren't baptised in East Bergholt, so it's not clear if they were siblings, or if they were related to Matthew Mecklenburgh (a millwright in the same place[4]See ERO ref D/DU 165/5 and D/DU 165/6. Matthew appears to have been bankrupted in 1801.). However, both planned to marry, and then called off the further publication of banns.
On 19th March 1797, banns were published between John Mecklenburgh, bachelor, and Mary Ife, widow. A note in the register reads "These banns were privately forbidden on 19th March 1797 by the said John Mecklenburgh." Perhaps, after they were read in church in the morning, John had second thoughts, and had a quiet word with the vicar later that day. Or perhaps, on his plan to marry Mary being publicly made known, someone told him something about Mary that he wasn't aware of before.
It seems that Mary is the widow of Samuel Ife, who died in June 1787, aged 47. Two years earlier, Samuel and Mary had had a daughter, called Sarah. Sarah's baptism record gives her mother's maiden name as Symonds, which suggests that Mary was Samuel's second wife – in 1764 he married Mary How. It is a little confusing, though, as no burial appears in the register for Mary, and nor does his second marriage (if such it was) to Mary Symonds. It may be the case that Mary Ife, who was buried in East Bergholt in 1823, aged 78, was Samuel's widow (although this is speculation), and the same Mary Ife who nearly married John Mecklenburgh. This would mean she was about 52 in 1797 – perhaps John didn't realise how old she was and, after the banns had been published in church that morning, found out and called a halt to the marriage.
On 8th February 1799, John Mecklenburgh (perhaps the same man who nearly married Mary Ife), married Elizabeth Crosbee. She is possibly the daughter of William and Hannah Crosbee who was baptised in East Bergholt in 1779, which would make her only 20 when she married John, and therefore a lot younger than poor, jilted Mary Ife.
In 1802 Maria Mecklenburgh, who might be John's sister, nearly married Samuel Sharp, a widower from Dedham in Essex, just over the border from East Bergholt. The banns were read twice, on 5th and 12th September, but a note says "The further Publication of these Banns forbidden by Maria Mecklenburgh." But why? This will have to remain a secret. Or not…. Two years later, on 2nd November 1804, Maria married William Crosbee. It may be he is related to John Mecklenburgh's wife, who was born Elizabeth Crosbee. Did Maria, faced with the prospect of marrying Samuel Sharp, realise that her heart lay elsewhere? Or, following her decision not to marry Samuel, did William arrive on the scene in the role of a kindly consoler?
He once was here, but now he's gone…
Sarah Smith, possibly the daughter of Edward and Susan, baptised in East Bergholt in 1774, planned to marry Thomas Stubbin. It was 1802, and Sarah was nearly 30 years old. Banns were published on 6th June 1802. Did Sarah rummage in her bottom drawer for some ribbon to trim her bonnet for her wedding? But the banns weren't published again for Thomas and Sarah…. "Thomas Stubbin, having left the Parish, the Publication of the Banns was discontinued."
Although Thomas wandering off, leaving Sarah to lament her bonnet ribbons, it isn't quite as bad as what happened to William Camplin and Elizabeth Hill, three years earlier….
"An insuperable impediment to this marriage exists"[5]Charlotte Brontë, Jane Eyre, vol II chapter XI
Elizabeth Hill is probably the daughter of John and Abigail, baptised in East Bergholt in 1777. On 15th December 1799, just as the old century gave way to the new, banns were published between Elizabeth and a man called William Camplin. William was not a resident of East Bergholt – he apparently lived in Great Bromley, across the border in Essex, nearly ten miles away. He said he was a widower, and Elizabeth believed him.
But the banns were published only once – William had been lying. A note beside this one reading of the banns says "It appeared on Enquiry that Camplin's wife was living."
As I've transcribed the parish registers for Great Bromley, I thought I would be able to find out more about this. Did he have children, and who was his wife? But William Camplin (and indeed, variants of his name – there are Chaplin and Chaplain families in Great Bromley at the time, and the name Crampin appears in some parishes on the Tendring peninsular) doesn't appear there. Maybe he was a soldier, stationed in the area?
Perhaps, as well as lying about the fact that he was already married, William also lied about where he was from….
Footnotes

↑

1
who possibly married William Chapman in 1771, and may be the Sarah Chapman who died in East Bergholt in 1819

↑

2
The banns register says "Kitty" but it is possible that a combination of poor handwriting and microfiche means it should read "Hetty" instead

↑

3
If, that is, Hetty and Kitty are the same people.

↑

4
See ERO ref D/DU 165/5 and D/DU 165/6. Matthew appears to have been bankrupted in 1801.

↑

5
Charlotte Brontë, Jane Eyre, vol II chapter XI