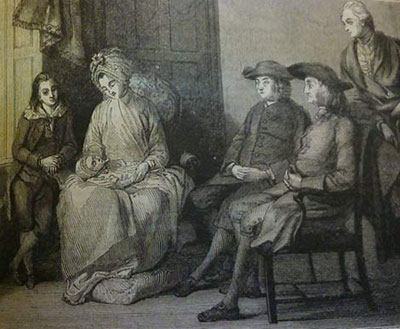 Joseph NunnI seems to have died a wealthy bachelor, as did Sturgeon Nunn, his nephew, and both men left their property to their extended family. These wills provide lots of information about siblings, nieces, nephews and cousins – almost enough to draw up a tree, but not quite. This article looks at my ongoing (impossible?) quest to identify the people in the wills of Joseph and Sturgeon.
We know from the 1741 marriage licence allegation of Joseph NunnII and Mary Gardiner that Joseph was 23 and of Mistley, so he was born about 1718. In 1758, another Joseph NunnI, of Bures Hamlet (that part of Bures St. Mary's which lies in Essex – the rest being in Suffolk on the other side of the River Stour) wrote his will, leaving all his messuages in Bures Hamlet to his nephew, Joseph Nunn of Mistley Hall. This must be JosephII, husband of Mary Gardiner. It does not, however, tell us how the two Josephs are related – which of JosephI's brothers is JosephII's father?
JosephI mentions five brothers in his will – EdmundI, Francis, PhilipI, Henry and Robert. No children, wives or widows are mentioned for Henry, who inherited £100. His brother Robert was to inherit £60, to be paid in installments, and the will mentions that Robert had a daughter: the former wife of Mr. Robert Ray (her children, unnamed, were some of the residual legatees). Her name does not appear in the will. JosephI also mentions his sister Rose Moore in the will too, so just from this information, we can put together a basic tree:
Click to enlarge
But although JosephI mentions various other nieces and nephews, their parents are not given in the will, so I cannot add them to the basic tree derived from the will. So we have Joseph NunnII of Mistley Hall, his nephew. We also have Margaret Newton Nunn, daughter of Edmund NunnII – he is another of JosephII's nephews, but he doesn't say who EdmundII's father was. JosephI mentions that he has previously given all his nieces and nephews "£40 each to advance them in the world", but that he'd only given Rachel Smith £10, so he wills a further £30 to her – but whose child was she? Had she married a man called Smith, or was she the daughter of one of JosephI's sisters? We have Mary and Rose, daughters of JosephI's late nephew PhilipII Nunn – but who was PhilipII's father? And we have two cousins – Susan Ward, daughter of James Ward, and George Turner of Pebmarsh.
My way into this puzzle was the mention of Sarah Nunn, widow of JosephI's late brother, PhilipI (to whom JosephI left £100), and also JosephI's sister, Rose Moore. When I first started compiling my Nunn research, I put together a list of all the Nunn spouses who appear in the Harleian Society's book of marriage licence allegations from the Archdeaconry of Sudbury.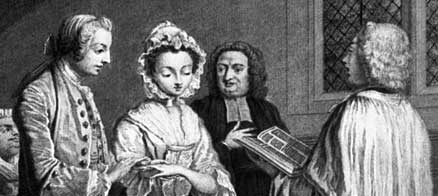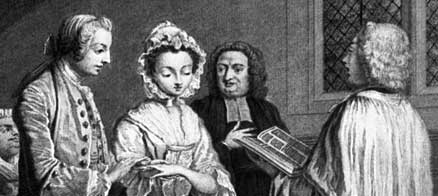 There is a marriage licence allegation for Rose Nunn and William Moore, which must, presumably, be JosephI's sister. She and William Moore of Pebmarsh married at Bures St. Mary in 1711 (I have since checked the parish register – although a marriage licence allegation exists, it doesn't prove the marriage took place, only that there was an intention to marry). Sometimes marriage licence allegations provide ages, but unfortunately this one doesn't. Then comes, only a year later, the marriage licence allegation for Philip NunnI of Bures Hamlet, singleman, and Sarah Causton, singlewoman, of the same parish. The bondsman was Joseph Nunn – also from Bures Hamlet. So identifying them was quite easy – it seems we've found JosephI's brother PhilipI and sister Rose, and perhaps it's even JosephI who is PhilipI's bondsman. On the same list, I found a Rachel Nun, who married Benjamin Smith at Lavenham in 1746, both of whom were from Long Melford – this may well be the mystery niece, to whom he left £30.
But what happens next? I ordered the microfiche of Bures St. Mary, so I could check Rose and PhilipI's marriages, and I assumed I would then be deluged by Nunn baptisms – maybe Joseph NunnII would be there, being baptised in 1718, son of PhilipI and Sarah, and all would solved! And… I looked at the microfiche, and… there weren't any Nunn baptisms, except for a child of Henry and Rachel Nunn in 1721. This must be Henry Nunn of Bures Hamlet who married Rachel Woodthorp in Wakes Colne in 1717, and is highly likely to be the Henry mentioned in JosephI's will. His daughter may have gone on to marry Benjamin Smith in 1746. There weren't any Nunn baptisms at all in Bures St. Mary in the late 1600s, which suggests that JosephI and his many siblings were not born there.
Nunns of Assington
So I returned to JosephI's will for more clues – where should I be looking for the Nunns? It seemed to me that PhilipII, his nephew who had two daughters and had died by 1758, might plausibly be a son of PhilipI and Sarah, who married in 1712. So I looked again at the marriage licence allegations and found Philip Nunn of Assington, intending to marry Rose Jacobs of Layham in 1741. The bondsman was Sturgeon Nunn, also of Assington, a yeoman. And in 1745, Jane Nunn intended to marry Mathew Harvy of Bures at Assington – is this a sister? But all these Nunns in Assington gave me a new parish to check. I looked on a map and saw that Assington borders Bures St. Mary's, so I gleefully checked on Family Search, which apparently has Assington baptism transcriptions from 1559-1845, with slightly less coverage for marriages and burials there. Well, surely to goodness, if the Nunns are there, I'll find them. But the database search only brought up four Nunn hits in Assington: Robert, son of Mary, buried in 1736; children of Thomas and Ann (Mary and Thomas) baptised in 1632 and 1634; and Elizabeth, daughter of William and Agnes, baptised there in 1604.
I checked the marriage licence allegations again for Assington, and found Sturgeon Nunn appearing once more as a bondsman in 1745, for Edward Chinery of Acton, and Sarah Nunn, to marry at Assington. As I had transcribed Acton's registers from 1744, I found Edward and Sarah's family, but it didn't give me any more clues, so I Googled "Sturgeon Nunn", thinking it was surely an unusual name, and found his 1782 PCC will – Sturgeon Nunn of Assington. And from his will, we can draw a simple tree: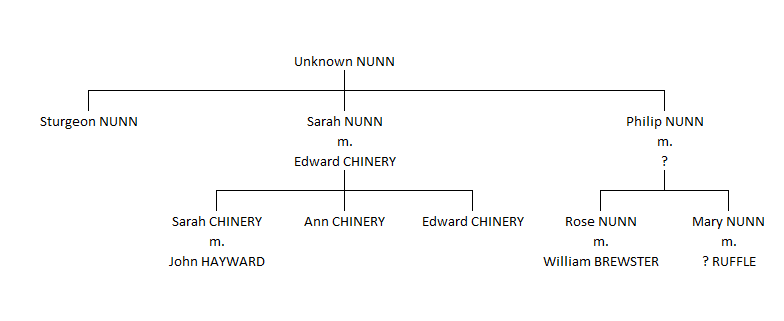 Click to enlarge
Sturgeon left a lot of his property to Sarah Chinery's family, who he calls his sister in his will, but once again, the late Philip NunnII appears – as Sturgeon's brother. This must be Philip NunnII of Assington, and he is mentioned in Sturgeon's will because he bequeathes annuities to his nieces: Mary Ruffle and Rose Brewster, PhilipII's daughters (who appear in JosephII's will as "Mary Nunn and Rose Nunn, daughters of my late nephew Philip Nunn"). By 1782, Rose was the wife of William Brewster of Black Notley. I was curious as to when they married, so checked Boyd's Marriage Index (the coverage is quite good for Essex and Suffolk). This led me to the marriage of William Brewster and Rose Nunn in Belchamp Otten in 1765. I started looking through the parish register of Belchamp Otten, to see if Rose had been baptised there, and she was, in 1743 – the daughter of Philip and Rose Nun. I also found her sister's baptism in Belchamp Otten in 1742, so Philip and his wife moved to Belchamp Otten quite soon after their marriage. There is a possible mistake in the register, as it says that Mary is the daughter of PhilipII and Mary Nun – it's not unknown for names to get transposed in registers. The Brewsters were quite a wealthy family, and I found Rose appearing in the Harleian Society's Brewster pedigree, as the daughter of Philip NunnII. Apparently there is a portrait of Rose, which belongs to a Brewster descendant – the Brewsters are well documented, so I can put Rose to one side.
So this solved one riddle, at least – Philip NunnII, JosephI's nephew, was married at Assington, and his daughters were baptised in Belchamp Otten. He died some time before 1758 (as we know he died before his uncle wrote his will), and in fact it looks as if Rose Nunn, widow of Belchamp Otten, who married John Griggs in 1750, is Philip's widow, which puts his death back even earlier. I haven't, as yet, found Philip's burial at Belchamp Otten, and he doesn't seem to have left a will.

Wills from Bury Record Office
ERO's wills and the National Archives' are indexed online, but Suffolk Record Office's aren't. However, they are quick to respond to requests, and I asked them if they had any wills for anyone called Nunn around the Bures/Assington area in the 1700s. They came up with three – the 1722 will of Edmund NunnI of Ballingdon, letters of administration of Philip Nunn of Assington in 1742, and a will of John Nunn of Bures St. Mary in 1775.
The letters of administration don't give us any of the information that a will would have – it seems to be an index, which tells us merely that in September 1742, "admon of the Goods and Chattels of Philip Nunn late of Assington deceased was granted to Sarah Nunn widow & relict of the said deceased". However, this is enough to suggest that he could well be the Philip NunnI, who married Sarah Causton in 1712. At some point, they moved from Bures St. Mary to Assington – perhaps after their children were born elsewhere, hence there being no Nunn baptisms in Assington. It's possible that PhilipII who married Rose in Assington in 1741 is PhilipI's son – this has to be a "possible" at the moment because without a baptism or him appearing in a document, we don't know for sure.
The 1775 will of John Nunn of Bures St. Mary, Suffolk is very brief – he mentions only two legatees, Joseph Causton, fellmonger, and John's servant, Mary Offord. However, even this is extremely interesting, because we know that PhilipI's wife was Sarah Causton, and in his 1782 will, Sturgeon Nunn mentions a Joseph Causton, who at that point was occupying Sturgeon's property in Great Henny, Essex. Joseph is also named as one of Sturgeon's executors – are the two Joseph Caustons in fact the same men, and are they related to PhilipI's wife? I don't know, but it's certainly another area to delve into.
The Edmund Nunns of Ballingdon and Rivenhall
But the 1722 will of Edmund Nunn of Ballingdon is perhaps the most useful of the three documents from the Bury St. Edmunds archive that I looked at, because in it, EdmundI names his five children: EdmundII, Thomas, Rose, Katherine and Jane, who were presumably all in their minority at this point, because they were to inherit all his goods, equally divided between them, as each of them reached the aged of 21. It also mentions his executors, who were his brothers – and this is crucial to my project of reconstructing the Nunn family: Joseph Nunn of Bures St. Mary, Essex, and Philip Nunn of Assington, Suffolk. First of all, there is no mention of his wife in his will, so she presumably pre-deceased him. We have a parish to look in, and Ballingdon, in Essex, is now part of Sudbury All Saints, so comes under Suffolk, and it has been transcribed by Family Search. I could only find three children, however, of EdmundI and Catherine Nunn baptised there – EdmundII (1705), Thomas (1707) and Susannah (1714). Susannah, not being mentioned in the will, presumably died in childhood. I'm fairly confident that Edmund Nunn of Ballingdon is the brother EdmundI that Joseph NunnI mentions in his 1758 will, and it ties in Philip Nunn of Assington.
Returning to Joseph NunnI's will, he mentions Margaret Newton Nunn, daughter of his nephew EdmundII. This is quite possibly the granddaughter of Edmund NunnI of Ballingdon. Margaret's baptism turned up on Family Search – she was baptised at Newton, Suffolk, in 1732, the daughter of EdmundII and Anne. I looked at Boyd's and found a marriage for Edmund NunnII and Ann Ruffle at Lamarsh in 1730 – and when I looked at the register itself, I saw that he was of Bures St. Mary and she was of Wickham St. Paul. And then I found a marriage for Margaret Newton Nunn in 1762 at Wickham St. Paul, to Edward Higham of Faulkbourne. I noticed a baptism at Sudbury for Ann, daughter of EdmundII and Ann Nunn in 1731, and spotted an Ann Nunn marrying in Rivenhall in 1761. I looked to see if there were any other Nunns in that parish on ERO's catalogue, and found a will for Edmund Nunn there in 1759 – so I went through the registers and discovered that by 1734, EdmundII and Ann had moved there from Ballingdon/Sudbury – but that's another story.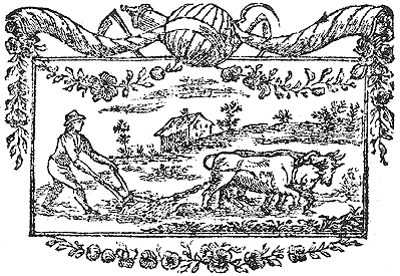 Nunns in Pebmarsh
I went back to Joseph NunnI's will, and was interested to find out what happened to the only sister named in it amongst his five brothers – Rose Moore. We know she married William Moore of Pebmarsh in 1711, so I looked in Pebmarsh for Moores. Straightaway, I was distracted by blundering right into the marriage in 1711 of Francis Nunn of Bures Hamlet and Marie Plumbe More. Another Bures Hamlet Nunn – and presumably the brother that JosephI's mentions in his will (the 1740 will of Francis Nunn of Pebmarsh names Joseph Nunn, his brother, as executor). There is only one month between the two Nunn/Moore marriages, and when I looked at Moore baptisms in Pebmarsh, I realised that William and Marie were brother and sister. I was instantly distracted by Francis and Marie, and found at least six children for them in Pebmarsh – Marie Plumbe (1712), Rose (1713 – yes, another Rose Nunn!), Henry (1714), Susan (1720), Joseph (1723), Unknown (1726 – this child isn't named in the baptism register – it may be Sarah, infant of Francis, who was buried in 1727 but no baptism is given for her) and Hannah (1728). Francis died in 1739 (ERO have his will which might show us if, as is quite likely, he is related to JosephI), and his wife died in 1742. Could Francis and Mary's son Joseph in fact be Joseph NunnII of Mistley Hall? The age is perhaps slightly too far out, for him to be 23 in 1741, but Francis' will might clear things up. It seems that Francis and Mary's son Henry stayed in Pebmarsh and had children – Henry (1739), Susannah (1743), Mary (1747) and Joseph (1749).
But what of William and Rose Moore? It turns out that they moved to Wakes Colne, not long after their marriage, because they baptise five children there: John (1712), Rose (1714), Susan (1718), William (1720) and Rachel (1722). It seems that Rose, William and Rose's daughter, married George Turner in Pebmarsh in 1736 (she would have been about 22), and this might be Joseph NunnI's "cousin" who is co-executor of his will – "my cousin George Turner of Pebmarsh". He clearly isn't JosephI's first cousin (he would be JosephI's nephew-in-law), but "cousin" had a looser meaning in the past than it has today. But I lose all trace of William and Rose after this, apart from her appearance in JosephI's will, when presumably both she and her husband were still living.
This means we can flesh out the initial tree from the 1758 will a little more:

Click to enlarge
There are some other Pebmarsh connections that I want to mention: firstly, who was the Rose Nunn, who married in Pebmarsh in 1738? Her husband's first name is missing from the register – all we have is his surname, Drew. Is she Francis' daughter, born in about 1713? Presumably his will might answer this. In 1747, William Moore and Jane Seward, both of Halstead, married in Pebmarsh – this might be the son of William and Rose, born in about 1720. We then have a marriage in Pebmarsh in 1763 between Edward Scandrett junior and Rose Moore – the witnesses were Thomas Moore and Joseph Turner, which suggests she is related to William Moore and Rose (née Nunn), perhaps their granddaughter. It's worth noting that an Edward Scandrett witnesses the Wakes Colne marriage of Henry Nunn, also in 1763 – is this same man? Another witness of Henry Nunn's marriage is John Eldred – and in 1760, in Pebmarsh, a John Eldred, miller, had married Sarah Nunn, spinster. Sarah and Henry could children of the Henry Nunn whose children were baptised in Pebmarsh in the 1730s and 1740s.
Robert Nunn and his mystery daughter
As mentioned above, Joseph NunnI names five brothers in his 1758 will – EdmundI, Francis, PhilipI, Henry and Robert. He only bequeaths legacies to Henry and Robert, and that's because, as we can see from other evidence, by 1758, they were the only ones still living (Edmund died in 1722, Francis in 1739, and Philip sometime before 1750). JosephI divides his rest and residue as follows:
"to all such children living at the time of my death of my brothers: Edmund, Francis, Philip, Henry and Robert and my sister Rose Moore, and to Mary Nunn and Rose Nunn, daughters of my late nephew Philip Nunn, and to the children of Mr. Robert Ray by his former wife (the daughter of my said brother Robert Nunn)"
Can we identify Robert Nunn's daughter, who had married Robert Ray? This might possibly be Sarah Nunn of Little Wigborough, who in 1745 married Robert Ray of Great Wigborough, although I haven't been able to trace them any further. This is quite some way from Bures and the Suffolk border, however, it's not far at all from Rivenhall, where we know Edmund Nunn, born in Ballingdon, moved to by 1734. And there are Robert Rays who left wills in the early-mid 18th century from Belchamp Walter and Bocking, which could be significant – the 1739 will of Robert Ray mentions his eldest son Robert, who could be the Robert who lived in Great Wigborough.
And yet…
Yet despite this rather colossal effort to identify all the people in these wills, I am still unable to identify the parents of Joseph NunnII. We can rule out Edmund Nunn of Ballingdon, as he names his five children in his will, and none of them are called Joseph. We can probably exclude Francis, as his son called Joseph would be five years too young to be Joseph Nunn of Mistley (Joseph was 23 when he married in 1741 – Francis' son would have been 18. Added to which, there is a burial in Bulmer in 1749 for a Joseph Nunn, who may well be Francis' son). So from the five brothers in the will, there are three possible fathers for Joseph NunnII: Philip, Henry and Robert.
I have only found the baptism for one child of Henry and his wife Rachel, a daughter, but Henry and Rachel did marry in 1717, so could plausibly have had Joseph a year after their marriage. Robert, I know nothing about apart from his possible daughter, Sarah, who married Robert Ray. I don't yet know where Robert lived, who his wife was or where Sarah, if she is indeed his daughter, was baptised. So there's nothing to say that JosephII isn't Robert's son.
That leaves Philip, who died intestate in 1742. I have a feeling he is probably the father of Sturgeon, PhilipII and Sarah, who are mentioned above, since Philip died in Assington, and evidence from marriage licence allegations places Sturgeon, PhilipII and Sarah in Assington in the 1740s. But where does that leave us with JosephII? He could be a son of PhilipI, and was missed off Sturgeon's will because he was already quite wealthy – but then Rose Brewster, PhilipII's daughter, had married William Brewster, who wasn't short of a bob or two himself. What suggests a connection is that JosephII had a grandson, by his son JosephIII, called Sturgeon Nunn – who plainly was named after Sturgeon Nunn of Assington. The name Sturgeon itself seems to be a mangling of Spurgeon, which appears in the family tree of PhilipI's wife, Sarah Causton – her mother was born Elizabeth Spurgeon. But we can't know for sure until the baptisms of Philip and Sarah's children are found.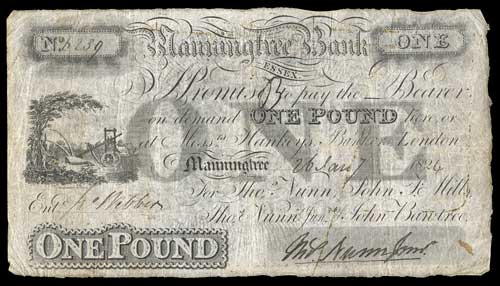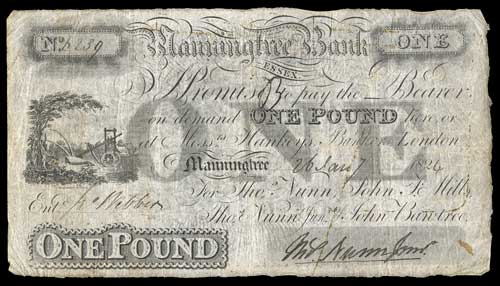 From DNW auction archive – the signature of Thos. Nunn jnr is in the bottom right.
However… there is one more Nunn we haven't accounted for. Francis Nunn mentions in his 1740 will that Thomas Nunn of Bures St. Mary is occupying his malting office, and in 1722, a Thomas Nunn occupied some woodland in Bures Hamlet, which belonged to Lawrence Harvey[1]ERO ref: Lawrence Harvy ref ERO D/DU 351/40. Are those Thomas Nunns the same person? Are they connected to the other Bures Nunns? Could Thomas in fact be a brother of Joseph NunnI, but doesn't appear in the list of five brothers perhaps because he was deliberately excluding him from the "rest and residue" part of his will, as Joseph NunnII was being bequeathed property in Bures Hamlet anyway? And perhaps JosephII didn't have any surviving siblings – certainly none are mentioned in his 1782 will. If the naming of children is anything to put stock by, then Thomas becomes a possibility, because we know that the name Thomas was repeated through the generations of Nunns in Mistley, Manningtree and Lawford – we see "Thomas Nunn" signed on banknotes by the banking Nunns, in fact.
But if JosephII is Thomas' son – we come back to the mystery we started with… where was he born and baptised?