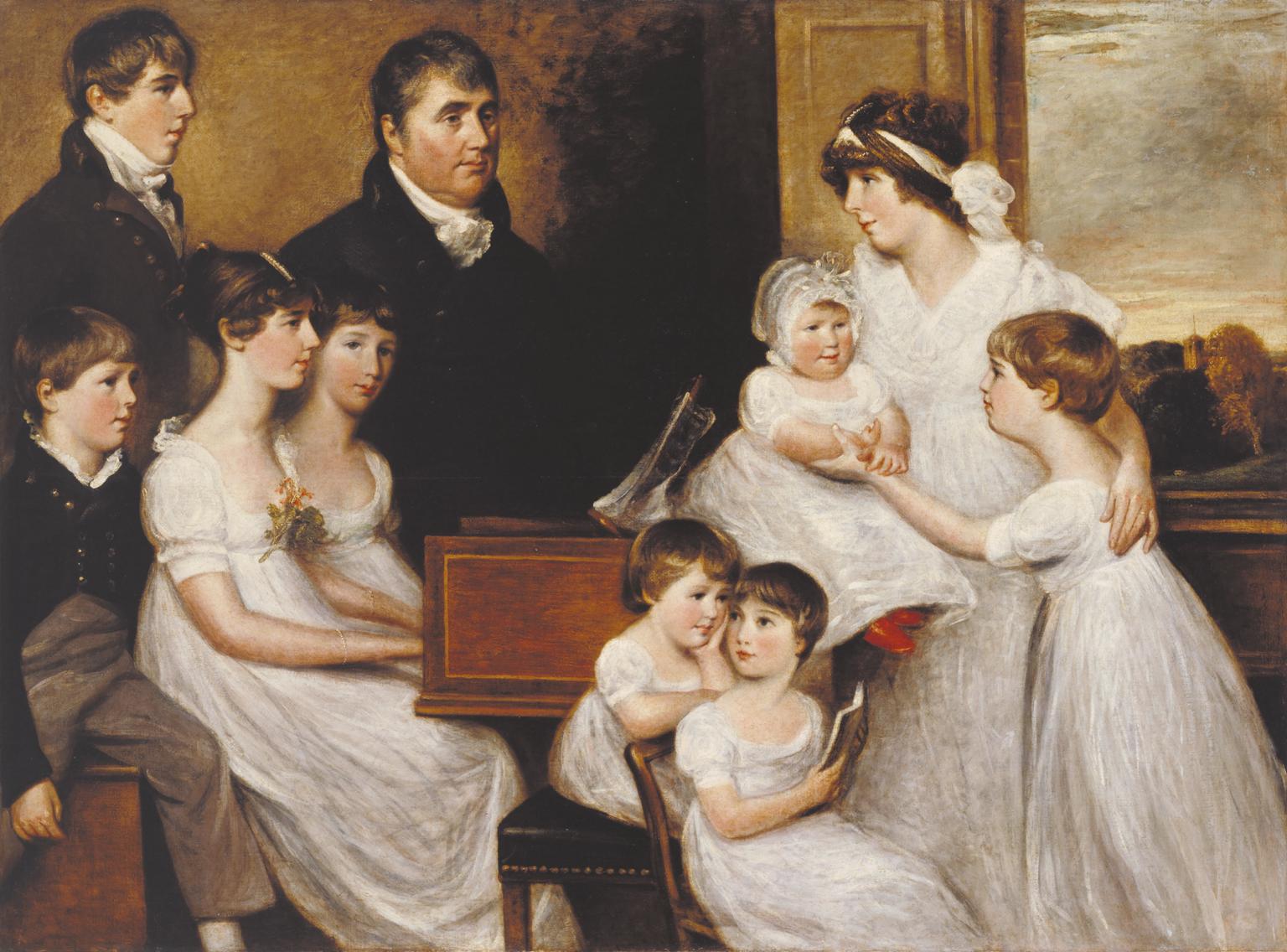 If you're from north-east Essex, and perhaps if you're from south-east Suffolk, you cannot avoid John Constable. My grandma had a print of The Haywain above her television, and we had Constable table mats. I grew up eating my Sunday roast while gazing down around the edge of the plate at what I could see of the horse outside Flatford mill, and the boat-builders along the river. If you go for a row at Dedham, you round a bend, and you're suddenly in one of his paintings.
In 1804, John Constable painted a portrait of the Bridges family, who lived in Lawford. Pater familias George was a banker and a corn merchant, and Lawford Place was built by him in about 1790.1)If the house was built then, where did the family live when their eldest child was born in Lawford in 1788? Was the house perhaps built earlier than 1790? It's a famous painting (although didn't feature in our table mat set), and I became curious about it while transcribing Lawford's parish register, covering 1764-1812. Were the sitters in the register?
The Bridges family were clearly the grand folk of Lawford. It's obvious, when you see how the family were recorded in the parish register. Everyone else in Lawford appears with a baptism date, their first name and their parents' names. But not the Bridges! They almost always had their dates of birth (sometimes even the time of day) recorded in the register, alongside the baptism date, and the name of the clergyman who performed the rite. Their records dwarf everyone else's as the cleryman often writes the enormous entry in larger writing than that reserved for the hoi polloi. Below is the baptism of Mary Anne, who appears in Constable's painting at the piano, with a posy at her bosom.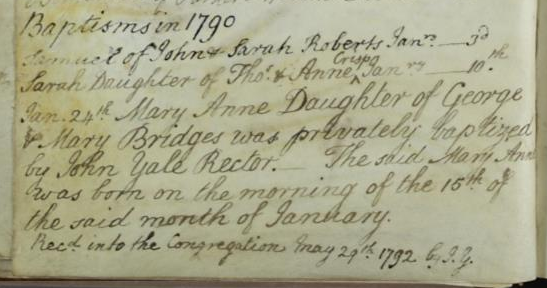 There are ten baptisms in Lawford's register for children of George and Mary Bridges, from 1788 until 1809. George Wilson was first, born in 1788; he is the eldest son, who stands to the far left of the painting.2)Some sources say that George was baptised at Leyton in Essex – he appears in the register there on 14th August 1788, when he was received into the church, but he was privately baptised in Lawford – three days after his birth. The next child was Mary Anne in 1790, seated at the piano with the flowers. Then came Jane in 1793; aged 11 at the time of the painting, she is the only sitter to be looking at the artist. John William was born in 1795; he's the little boy sat on the left, wearing a miniature version of his elder brother's outfit. Sarah Ann was born in 1797, and she's standing, holding the hand of her infant sibling. Seated with the book is Elizabeth, who was baptised in 1799, and seated behind her is Frances Maria. Frances appears in the register in 1803, when she was received into the church, having been privately baptised earlier – she is clearly not a one year old in this painting, and appears to be about three or four. The baby with the dashing red shoes is Anne, who was baptised in 1803, which is presumably the same year as her birth.
The Bridges were lucky for a family of the period – by the time of the painting, eight children had been born to them in sixteen years, and none of them had died. Sadly, this was to change. There's a burial in Lawford in 1806 for eighteen-month old William Bridges – I cannot see a corresponding baptism for the child, so it isn't clear if he was a son of George and Mary or not. A seventh daughter was born in 1807, called Georgina Charlotte Sophia, followed by another son; Charles Marratt Bridges was born in the February 1809, and was buried that September.3)The inspiration for Charles' middle name is perhaps John Marratt of Dedham, who was in partnership with George Bridges controlling Mistley Port.
By 1821, three of the girls you can see in the portrait had died: Frances Maria was 15 when she was buried in Lawford in 1815,4)Her age at death suggests she was born in 1800, making her four at the time of the portrait, which does seem about right. the family abode being given as Lawford Place. Sarah Ann, holding her baby sister's hand, died in April 1820, aged 22. Her abode was given as "Knightsbridge but lately Lawford". Georgina, who was in born in 1807 and doesn't appear in the portrait, was buried in 1821, aged 13. Again, the abode is given as "Knightsbridge but lately Lawford." Apparently, the Bridges family had a house in Russell Square, but that's three or four miles from Knightsbridge.
It has been said that John Constable was rather too interested in fourteen-year-old Mary Anne, and he had to be politely encouraged not to bother her. Meanwhile, her brother, George Wilson Bridges, went on to lead a tumultuous life. He was forced by his father to become a clergyman, eloped with a girl (perhaps as an act of rebellion against his parents), was left nothing by his father in his will as estrangement had ensued (George blamed his brother's influence), supported slavery while living in Jamaica, was condemned by many when he behaved violently towards enslaved people, and in 1834, his wife left him. Four daughters drowned, he lived in the wilds of Canada for a time with his son, he experimented with photography guided by Fox Talbot, and he prepared his son for the Navy with a former MP who had toured Italy with Byron.5)A fuller biography of George can be found at Legacies of British Slave-Ownership.
All of which lay before him as he posed solemnly, aged 16, for John Constable.
| | | |
| --- | --- | --- |
| 1. | ↑ | If the house was built then, where did the family live when their eldest child was born in Lawford in 1788? Was the house perhaps built earlier than 1790? |
| 2. | ↑ | Some sources say that George was baptised at Leyton in Essex – he appears in the register there on 14th August 1788, when he was received into the church, but he was privately baptised in Lawford – three days after his birth. |
| 3. | ↑ | The inspiration for Charles' middle name is perhaps John Marratt of Dedham, who was in partnership with George Bridges controlling Mistley Port. |
| 4. | ↑ | Her age at death suggests she was born in 1800, making her four at the time of the portrait, which does seem about right. |
| 5. | ↑ | A fuller biography of George can be found at Legacies of British Slave-Ownership. |