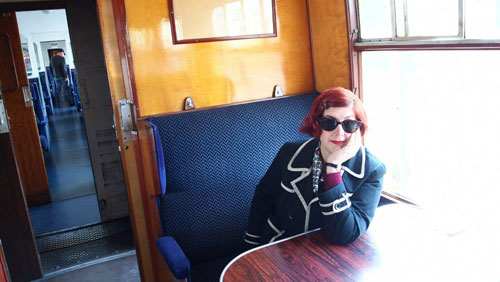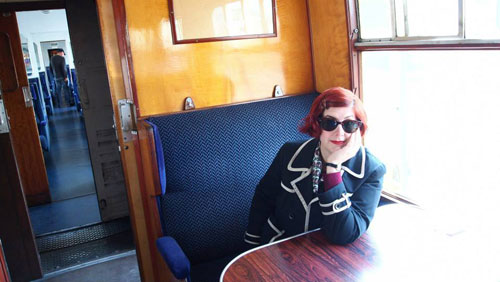 In July, I went to Somerset to visit my dad, and we ended up in the Smuggler's Cave in Watchet. There's all sorts of treasures to be found here – antiques, mid-20th century bits and bobs, from grand polished dining tables to boxes of bent cutlery. I was rummaging through some photos and 1950s receipts, when I struck up a conversation with the chap who runs the shop.
"If you like old photos," he said, "You'll love this old album I got the other day at a car-boot sale."
Off he went and came back with a dark green album, which at the beginning was full of late Victorian and Edwardian family photos, with first names added. Family sat outside a house, a line of Edwardians strung together as they ascend an icy mountain, horse-riding in Ireland. Following these were page after page of very old postcards, mainly of churches and cathedrals. At the back, there were newspaper clippings from WW1 with photos of soldiers who had been killed – Thomas Eland Clatworthy and Harold Richard Taylor. Further on, there was a programme for an evening of genteel entertainment at Flook House in Taunton, and photos of someone in… India? All the photos have been glued in, so there's no chance of peering behind to see what might have been written on their backs.
However, someone wrote a list of names on a loose piece of paper (a photocopy of a page from Jack & The Beanstalk, illustrated by Quentin Blake), including two of the soldiers from the newspaper clippings, and there was a postcard of the Crab Inn in Shanklin on the Isle of Wight, which hadn't been glued in. It was postmarked 1969, from "R & E" to Miss B. Baker in Rooksbridge near Weston-super-Mare. I assume the album may well belong to Miss B. Baker (although Miss Baker's postcard could be a red herring – it may have nothing to do with the album and somehow got stuck between its pages).
I could have left it in the shop. After all, they're probably not related to me.[1]Although saying that, I do have Somerset ancestors on my maternal grandmother's side: her grandad was born in Bristol in 1853, and his family were from Wells, Frome and Glastonbury. But I didn't want to leave them. I suppose this being the centenary of the start of WW1, the soldier newspaper clippings really touched me, especially paired with the pre-war family photos. I decided to buy the album, and find the family it belongs to.
First of all, I looked at the list of names. The first is Thomas Eland Clatworthy, who I have found out was born in the Taunton registration district in 1885. The others on the page – the Taylors – all have a note to say they were children of Theo. Taylor. This meant it was simple for me to find them on the 1901 census, living at Rosslyn Villa on Richmond Road in Taunton. Theophilus was 44, a glove manufacturer. His wife was Elizabeth, and they had five children: Florence U. (17), Harold R. (11), Bernard U. (9), Nora E. (4) and baby Theophilus G (1 month). It's only Alice missing from the census, who otherwise appears on the list that I found inside the album. Harold, 11 on the census, became a WW1 casualty.
I started a tree on Ancestry, using just this information on the Taylor family, and at once I seem to have found someone who is a descendant of one of Theophilus and Elizabeth Taylor's children. But the strange thing is… there is no-one called Clatworthy in their tree. How does he fit in? And who wrote the list of names, which includes the regiments of soldiers, dates of death for some of them, and in one case, the name of the best man at a wedding? Was it Miss B. Baker? But who was she?
I had thought this would be an interesting project, but it may be a project which generates just this one blog post, because I'm going to contact Theophilus and Elizabeth's descendant right now. But as long as the album is returned to its family, my mission is complete. Old photos that float about unidentified in second hand shops make me feel sad, and it's even sadder when people trim them and glue them to bits of furniture to be "vintage". Anyway… I'll let you know what happens….
Monday 20th October 2014
So it turns out I have indeed found living descendants of the Taylors, and I'm sending the album back to its rightful owners. How it ever ended up at a car-boot sale, I don't know, but I'm glad it's been rescued!
The mystery remains though as to what Thomas Clatworthy's connection is – I wonder if he was the fiancée of one of Theo Taylor's daughters, and perhaps the album belonged to her? Miss B. Baker is a mystery too – perhaps she and the album's owner were companions? We shall see… or not, as the case may be. Some stories are never untangled, after all.