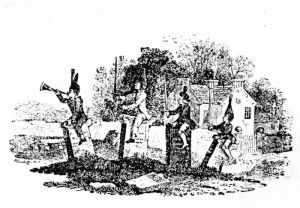 Dying is rather unfortunate anyway, but in Beaumont-cum-Moze, the causes of death are given far more often than they are in other burial registers that I've seen. So here, then, are unfortunate ways to die in Beaumont-cum-Moze.[1]Before 1678, Beaumont and Moze were two separate parishes.
5th September 1576: Hugh Oreys, "kylled by a fall out of a pere tree." [Beaumont]
26th December 1581: William Taylor "who was kylled w. a bell out the churche Steple wh. fell opon hm and was found the cause of death." [Beaumont]
17th March 1601/2: Sarah, daughter of John Felgate – drowned. [Beaumont]
20 June 1681: Thomas Ingoleby, apprentice to Michael Andrewes, "was drowned in the creeke between Beaumont and Moze."
4th March 1682/3: Mary Mackerill "A servant att Beaumont Hall being drowned in Coome Field Pond."
27 November 1744: John Brasted of Kettlebaston, Suffolk "dyed suffocated with Geneva." (This was during the mid-18th century gin craze – Hogarth produced his famous 'Gin Lane' and 'Beer Street' engravings in 1751. When you consider that cheap gin at this period was sulphuric acid and turpentine, it's no wonder that poor John died from drinking it, but what was he doing 30 miles from home?).
1st May 1791: William Smith, infant. "Under warrant from the Coroner having been accidentally drowned."
7th July 1846: John Shiplee aged 4 and his brother William, aged 5, "Drowned in a well July 5th."
17th July 1865: Alfred King, aged 20. "Drowned!" (the exclamation appears in the register: I think by this time the people of Beaumont-cum-Moze were getting heartily sick of the number of their neighbours who kept getting drowned).
Other interesting notes in the burial register
6th September 1602: Agnes Smyth "an adulteres and therfore excommunicated and was so buryed." [Beaumont]
5th September 1640: Elizabeth Bucknam, widow "Being excommunicate" (no note to explain why, however, September is clearly a bad month to be an excommunicate) [Moze]
Dec 1668: John Sprengit "Died a presener [prisoner]." [Moze]
Several people who were from Cheshire: Thomas Darlington, buried 18th August 1684 ("A Cheshire man dying att Moze"); Elizabeth Phithian, buried 23rd June 1693 ("A Cheshire woman"); Ottewell Donastle, buried 26th December 1693 ("A Chesireman brought from Chich St. Osyth"); Robert Doncastle, buried 2nd October 1701 ("A Cheshireman dying att Little Clacton"). There is a Joseph, son of Mary Darlington of Moze, who was buried on 18th February 1684/5 – perhaps Thomas married a local girl.
A French Protestant family, Benjamin and Madelain Turquain. Sadly, they and three of their children all died between 1683 and 1692. Thorpe-le-Soken, where there was a Huguenot church, is right next door to Beaumont-cum-Moze.