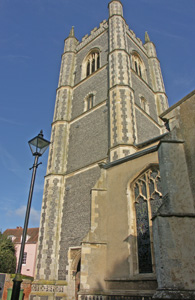 Back in July last year, I was transcribing Dedham's second oldest surviving parish register and found some interesting goings on among the baptisms. You can read about these in Goings in Dedham's baptisms. Now that I've transcribed Dedham's baptisms and burials up to 1812, and marriages up to 1753 (marriages 1754-1812 is in progress) it seemed like time to update those "goings on".
First of all, we had Daniel, the illegitimate son of Daniel Fairs from Suffolk and Lingwood Ponder, a woman living in Dedham at the time. He was baptised on 12 January 1725/6. A burial for "Daniel Fairs" took place in Dedham a month later on 16 February 1725/6. There's nothing other than a name, so I don't know if it's the child or the father. It might be more likely to be the father than the child as illegitimate children generally took their mother's name (unless she married the father later, or perhaps another man and the child took their stepfather's name). However, given that infant mortality wasn't unusual at the time, it might be the case that the baby died aged about a month old.
Other people called Daniel Fairs appear in other parishes – in 1743, Daniel Fairs of Beaumont-cum-Moze married Mary Dunstill in Brightlingsea, and the Essex Record Office have the marriage licence bond and allegation (the bride's name is transcribed as Dunshill). So anyone researching Daniel would be wise to get hold of a copy as it might offer a clue that would held you to work out if it was the Daniel born in Dedham who got married – or was he even the illegitimate child's father? Another Daniel Fairs, a single man, married in Ramsey 1747. Was he the one born in Dedham? This must for now remain a mystery. And as for Lingwood Ponder – she only appears in that one baptism entry.
The entry drew my attention as it said that Lingwood, Daniel's mother, was "living with" George Cock at the time. In modern parlance, we might assume they were a couple but it probably didn't mean that then. George had married Susan Bibby in 1718. They had three children before Susan died in 1724, a month before her daughter. Then in 1730, it looks as if he married Elizabeth Podd in Dedham – so at the time when Lingwood was "living with" George, he was a widower. It seems that George died in Dedham in 1748 – the register says he was a "barber, middle-aged." Only a couple of months later, Rebecca, George's posthumous child by Elizabeth was baptised.
Michael Crow, an illegitimate child "born in incest" because his mother was the widow of his father's brother, doesn't appear in the registers around Dedham following his baptism, so I don't know what happened next (yet, at least!). It's entirely possible that his parents decided to move away from Dedham, so that they could marry where their relationship was unknown. His parents' relationship would not be considered incestuous these days, but because the Bible states that a married couple become of "one flesh", historically a marriage between a brother-in-law and a sister-in-law fell in the prohibited degrees, as much as if they were close blood relatives. The law changed in the early 20th century.
As for Patience Prescott – she and her family don't seem to make further appearances in the parish registers so far transcribed around Dedham, nor in the Essex Record Office's index, the National Archives' index or on Findmypast. Where did they go? Will we ever know?