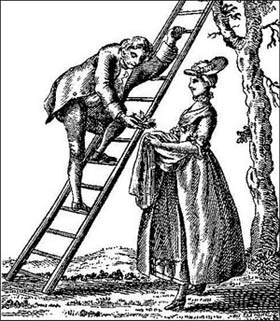 This article is a work-in-progress. I have no doubt that as I continue to transcribe parish registers in Essex and Suffolk, the various gaps and mysteries in this part of my tree will disappear. If you are related to Joseph and Mary and can help with information, then do get in touch. Sept 2014.
Mary Gardiner was baptised in Great Bromley on 21st May 1722, the eldest child of Henry GardinerII and his wife, Mary (née Barton). In 1741, aged 19, Mary married Joseph NunnII of Mistley. According to their marriage licence allegation, he was 23. They were to marry at either Little Clacton or Frinton, but unfortunately the marriage registers for those parishes no longer survive.
From evidence in wills, I know that Joseph is part of a large family of Nunns in Suffolk and Essex, but at the same time, he is a mystery: I have not found his baptism (his year of birth is based on his age when he married), and I cannot yet identify his parents. We do know that he is the nephew of Joseph NunnI – in 1758, Joseph Nunn of Bures Hamlet (the part of Bures St. Mary which is in Essex – the other part being in Suffolk) died and made Joseph NunnII of Mistley Hall, his nephew, his executor. I have examined Joseph NunnI and the various people in his will in some detail as part of my Nunn research.
I have not yet located the baptisms of JosephII and Mary's children, so the following list is based on the names appearing in Joseph's will. Years of birth are based on their age at death, taken from burial registers or death announcements in newspapers, if I have found them.
Ann
Elizabeth (married John Rogers in 1772)
John (died between 1777 and 1782)
Mary (married Samuel Risbey in 1764)
JosephIII (1742-1797)
Henry (1743-1819)
Robert (1753-1828)
Thomas (1754-1834)
William (1757-1839)
The Nunns in Mistley
The Nunns are oddly silent within the pages of Mistley's parish registers, despite the fact that JosephII lived there from at least 1741, according to the date of his marriage licence allegation which locates him in Mistley. From poll books, we can also place Joseph in Mistley in 1763 and 1774 – in 1764, his qualifying freehold was in Colchester, and in 1774 it was in Little Bentley.
Only two of JosephII and Mary's children were married in Mistley – Mary, to Samuel Risbee in 1764, and William, who married his second wife in Mistley in 1791. Usually, you see a pattern in marriage registers, where members of prominent families witness many of the marriages that take place in the parish, but the Nunns only appear as witnesses for their immediate family.
It's difficult to know where to look for the baptisms of JosephI and Mary's children, but they don't appear in the non-conformist registers which have survived. It may be, of course, that they were in non-conformist registers which didn't. In fact, non-conformity might perhaps explain why they didn't witness marriages in Mistley. And they did move about – whilst William's second marriage was in Mistley, his first was in Toppesfield. He is a "gentleman of Mistley" – how did he meet a wife who lived in Toppesfield, about 35 miles away? It's possible that the Hardy family (his wives were sisters, Hannah and Catherine) had connections with the Nunn family who lived over in Hinckford Hundred, in Bures Hamlet, Bulmer and Belchamp Otten. But that means that if we're looking for likely places for the baptisms of JosephI and Mary's children, we could be looking anywhere.
We do know, though, that Joseph was a wealthy farmer. He left a lot of land in his will, as well as legacies totalling £4,600 (the National Archive's historical currency calculator, calibrated to show the value in 2005, translates that £4,600 to nearly £300,000 – enough to buy you 450 horses in 1780!). When his uncle died in the 1758, he left JosephII property in Bures Hamlet, which Joseph had presumably sold by the time he wrote his own will in 1782 as he doesn't specifically bequeath it to anyone.
The beautiful 1778 survey of the Mistley estate at ERO, digitised and available to view online for free, shows the farm that Joseph NunnII leased from the Right Honourable Richard Rigby (1722-1788). JosephII occupied New Hall, which lay in Mistley and Little Bentley. While the will of JosephI refers to his nephew as being "of Mistley Hall", JosephII in fact occupied New Hall – Mistley Hall is where Rigby lived. New Hall was just over 367 acres, which is a sizable area to farm – it really is no surprise that he died a wealthy man. It's interesting to see New Hall's position compared to the other properties of the Mistley estate – you can see that it borders the land of Benjamin Carrington, whose daughter Mary (1755-1823) married JosephII's son Thomas.
Joseph's will
JosephII's wife, Mary, was buried in Mistley on 10th August 1777. JosephII himself died on 8th April 1782, and was buried in the same parish as his late wife. The register says: "Joseph Nunn the elder, gentleman." He initially wrote his will in 1777, but he added a codicil on 20th February 1782 (perhaps knowing he was in his final illness?) because his son John had since died, and he reallocated John's inheritance amongst his other children. It's worth reading his will to see the amount of land and money JosephII had. All three of his daughters (Mary, Elizabeth and Ann), and his son JosephIII inherited money only, but his five other sons inherited various properties and pieces of land. Henry and William inherited property and money.
The will explains why his son JosephIII inherited less than the others:
"The reason why I do not given him an equal share with the rest of my sons is because his grandfather Henry Gardiner deceased hath amply provided for him and hath given the rest of my children nothing."
I have discussed this in the section on Henry Gardiner, but it's worth repeating that JosephIII was made an executor with his father, JosephII, and was expected to keep all the property that his cousin was to inherit on his majority in good repair. At the time of the will being written in 1769, JosephIII was about 27 years old, and his cousin was only about 8 – he had many years of responsibility ahead of him. As if striking back at his father, JosephIII's own will contains some very interesting, some might say eccentric, explanations for how and why he apportions his own property as he does, but that's for another time.
Another Joseph Nunn appears in JosephII's will – his cousin, a captain in the Navy who inherits 10 guineas. At the moment, I have no idea who he is, but it may prove to be a very useful clue, which will help us to identify JosephII's parents. If the Captain is a first cousin, then it means that Joseph's father had a brother, but the Captain hasn't appeared in any other document, so as yet, this is a thread that will have to tantalisingly dangle.
What happened next…
I have tried to follow Joseph and Mary's children. In some cases, they appear once and once only (their daughter Ann, who I only know existed because she appears as a name on a will), but the others went on to become part of quite grand families.
His son Robert Nunn became a surgeon, whose daughter Elizabeth married Lewis Agassiz, a friend of the King of Prussia. After Elizabeth's death in 1826, he married her relative[1]

First cousin once removed.

Sarah Eliza Nunn (a great-granddaughter of JosephII and Mary Nunn), and their son, Lewis Nunn Agassiz, went to Canada, and established the town of Agassiz in British Columbia.
By 1797, Joseph and Mary's son ThomasI was living at Little Bromley Hall, and when he died in 1834, he was living at Lawford House. His son ThomasII (1778-1857) was a banker, as was his son ThomasIII (1805-1858). Carrington Nunn, another son of ThomasI, was a banker as well.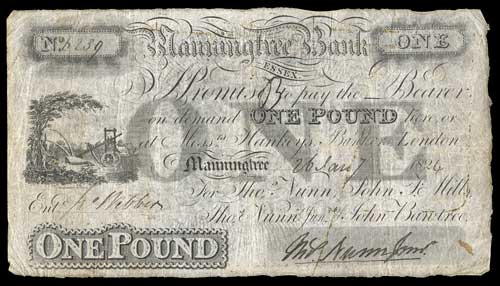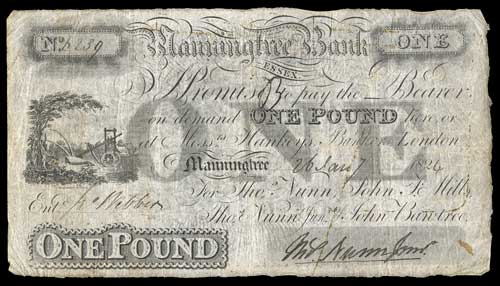 I will delve further into the Nunns, but as part of my Nunn project. However, the Gardiners are an essential puzzle-piece in their story. But for whom, etc…..