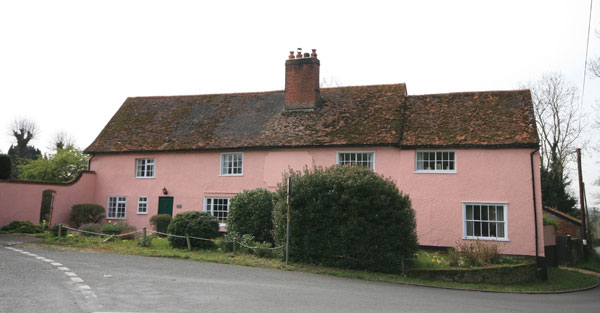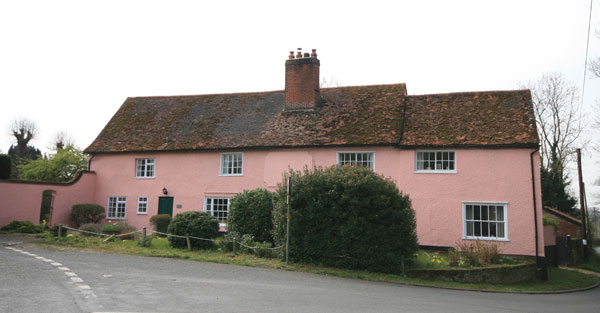 John was the first child of John and Susan Latham, baptised in 1665 in Great Bromley, a year after his parents' marriage. He himself married Susan Begle in Tendring on 9th February 1694/5. I have been unable to trace Susan before her marriage.[1]When I first found this marriage, I read Susan's surname as Begbe, but looking at it again, it's Begle. It must be a spelling of Beagle, which does exist as a surname. He and Susan had seven children, six of whom survived childhood, and they were all baptised in Tendring:
John, 31st December 1696 (died 1760?)
Elizabeth, 3rd January 1699/1700 (died 1735?)
William, 26th November 1704 (died February 1706)
William, 15th October 1706 (died 1749?)
Charles, 16th January 1608/9 (died 1747)
Susan, 30th April 1710
Mary, 30th November 1712
By his parents moving to Tendring, a connection was established between the Cardinalls and that village, which would last into the nineteenth century.
In 1700, John and his brother James inherited £50 from their cousin, Charles Cardinall of Colchester (1672-1700) (Charles was the son of another Charles, 1640-1682). James did in 1707, and as I have not been able to trace their sister Elizabeth, it's possible that by this date, John was the sole surviving child of John Cardinall and Susan Latham. This is perhaps why he was named in the will of James Clarkson, written in 1723, when John was about 58.
The Clarkson documents
James Clarkson was born on 7th April 1656, his birth being recorded in the parish register of St Leonard's in Colchester. He was the son of Samuel Clarkson by his wife Dorothy. Dorothy, just to remind you, was the daughter of James Cardinall of Langham and his wife Dorothy Welby. So she was the aunt of John Cardinall of Tendring. From various documents, it's clear that she is James Clarkson's mother. James' will mentions his sister, Elizabeth Sparrow, a widow. Mr. Clarkson must've died by 1700, as when Charles Cardinall of Colchester wrote his will that year, he left £10 to "my aunt Dorothy Clarkson, widow." Dorothy, as "Mrs. Dorothy Clarkson," was buried in Tendring on 9th September 1704.
James Clarkson married Elizabeth Beriffe in Frating on 9th May 1695. He was named as Mr. James Clarkson of Tendring, and his bride named as Mrs. Elizabeth Beriffe, which suggests the high status they held. Mrs. doesn't necessarily denote a married woman at the time but was short for "mistress." As the term gathered negative connotations thanks to men who kept mistresses, the term "missus" was used instead. Papers at the Essex Record Office say that marriage portion of Elizabeth Beriffe (Old House Lands, Chasely Lands and Chasely Woods) was contracted between James Clarkson and Richard Beriffe on 28th and 29th February 1694 (presumably 1694/5). Richard appears to have been Elizabeth's brother. She was born in Frating in about 1660,[2]An Elizabeth daughter of John and Elizabeth Beriffe appears in Frating's baptism register, having been born on 26th September, and baptised on 30th. No burial is recorded for her, and another … Continue reading the youngest daughter of John and Elizabeth Beriffe. Her father died in 1662, and her mother lived for about another forty years.[3]Elizabeth Beriffe wrote her will on 14th October 1695 and it was proved on 19th October 1706. No burials survive in Frating's parish registers from 1685-1709, so as she died in that period, if … Continue reading The family lived in Frating because they owned the manor of Moverons there (a place spelt differently in every source that mentions it), a property that at one point had belonged to the Cardinalls. Her line of Beriffes lived in Colchester in the 1500s and early 1600s, although they originally appear to have lived in Brightlingsea, where brasses commemorating the family can be found in the church.
It's a sad tale. Their daughter, Elizabeth Clarkson, was baptised in Tendring on 5th February 1695/6, and Elizabeth senior, presumably dying from complications caused by childbirth, was buried on 13th of the same month. It doesn't appear that James married again – certainly, Elizabeth was his only surviving child.
On 8th September 1713, Elizabeth was married in Beaumont, aged 17, to Henry Wale of Little Bardfield. Their first child was born less than a year later, on 6th July 1714, a son called James, presumably named after Elizabeth's father. In 1717 another son called Henry was born. But on 17th August 1720, Elizabeth's husband died.
Her father wrote his will in 1723. He didn't bequeath very much to his daughter, perhaps because there had been a marriage settlement when she married Henry Wale ten years before. She was left £100, and the household goods that would be in his new brick house at Homestalls farm, as well as being allowed to "enjoy" (live in rent free) that said house. Henry, Elizabeth's son born in 1717, doesn't inherit anything, also he is briefly mentioned at the end of the will, where James states that his executor, Robert Halls, is to be the guardian of his two grandsons.
James Wale was James Clarkson's major beneficiary. He was to be left the farms of 'Pestles & Boltons' (at the time, occupied by John Cardinall junior – John and Susan's son born in about 1696), Homestalls, New Hall manor in Tendring, an unnamed farm occupied by Timothy Kerrington,[4]a version of 'Carrington' a farm called 'House Lands and Chasely Lands' and woodland called Chasely Woods.
The only property he didn't leave to James Wale was The Crown pub in Tendring, which he left to his cousin John Cardinall senior and his wife Susan, and on their deaths, it was to descend to James Wale.
He stipulated that should James Wale die without issue, Pestles & Bolton and Homestalls were to go to John Cardinall junior, and New Hall, Kerrington's farm, 'House Lands and Chasely Lands' and Chasely Woods were to go to John Cardinall senior's other five children: Elizabeth, William, Charles, Susan and Mary. Those five were to inherit The Crown, too.
James died on 30th May 1725, and was buried there on 2nd June. But John Cardinall senior had died only a couple of months before – he was buried in Tendring on 29th April, and his wife on 1st May. It's tempting to wonder if they had all died of the same contagious disease, seeing as they all passed away so close together. And only a couple of months after James Clarkson's death, his last surviving grandchild, James Wale, died on 14th September 1725.[5]There is an error in Tendring's baptism register – it says that 11-year old Henry Wale was buried on 17th September 1725. It must be James' burial, not Henry's, as Henry … Continue reading
All a perfect recipe for a Chancery suit! I haven't gone through the Chancery documents at the National Archives yet, and I suspect little will differ from what's held at the Essex Record Office.  It is a bit confusing as to who owns what and who lives where, but it does give us extra information on the connections between the Clarkson and Cardinall families, and how the Cardinalls came to be the lords of New Hall manor. In fact, in the notebooks documenting Elizabeth Wale's expenses in administering her late husband's will, there's mention in 1721 and 1722 of her having a servant called Elizabeth Cardinall – this could be John Cardinall senior's sister, Elizabeth (born 1669) or his daughter (born 1700).
Elizabeth Wale's main woes were caused by Robert Halls, who had guardianship of her sons. She married her second husband, a Colchester surgeon called Harris Salter, on 13th July 1727, and the following year, when Henry was 11, the Chancery suit began. She claimed that she was a "weak and sickly woman […] under great infirmity of mind and incapable of understanding" what she was owed from the estates on the deaths of her husband and father. She alleged that Robert Halls told her she was owed nothing because their estates were so encumbered with debt. She claimed Halls encouraged her to sell her property in Tendring, and that he had felled trees on her land. Halls, needless to say, denied all this, even to the point that he claimed Elizabeth's health was better than she claimed.
An agreement had been struck that Elizabeth was to have Tendring Hall for her natural life and then it was to descend to Henry Wale after her death. A document at ERO from 1739 shows Tendring Hall and some property in Little Bardfield and Thaxted being involved in a disagreement with Henry and his wife Jane, and John Walce and William Freeston – William is possibly Jane's brother.[6]Henry Wale married Jane Freeston/e at Colchester St. Mary's at the Walls in 1735 Tendring Hall appears to have been part of Elizabeth Beriffe's settlement when she married James Clarkson.
The Cardinalls' property in Tendring
As for the Cardinalls – under the terms of James Clarkson's will, because Henry Wale was to inherit nothing, and because James Wale had died so soon after his grandfather, all that property in Tendring, all those farms, The Crown pub and the manor of New Hall, came into the possession of the Cardinall family. John junior was the main winner.
A letter from 1731, about The Crown, tells us that Susan and Elizabeth had found husbands.
Susan, born about 1710, had married Thomas Baxter, a blacksmith. I haven't found the record of this marriage yet, but they had one daughter, called Susanna. She appears later to have married Giles Rawlingson of Thorpe-le-Soken, and their son of the same name was born in Weeley in about 1752. He died in Alfresford in 1832.
Elizabeth, born about 1700, married Thomas Sallows in 1723, in the town of Colchester even thought they were both of Tendring. They had four children, Thomas (1724-?), John (1726-1727), another John (1728-?) and Sarah (1730-?). She was still alive in 1780 when her sister, Mary, wrote her will.
The letter says that John Cardinall is a maltster of Wivenhoe, and a note written to him by Philip Morant (well-known local historian and Colchester vicar) in 1750, included historical information about New Hall in Tendring. Morant called John, "You, who are Lord of the Manor of Tendring." More on John later.
William Cardinall was in trouble – Henry Wale brought action against him, "William Cardinall, gent of Alresford" for having wood cut down on Henry's land. Either William was a rogue and decided to help himself to his cousin's wood, or there were disputes over the land and William believed he was entitled to it. It isn't clear what year this was, although it was possibly 1725.
Mary, the last sister, married in Brightlingsea in 1740. She was 28, and her husband was Thomas Whiting, a widower, aged about 50. She died in 1780 in Tendring, and she was buried there. She doesn't appear to have had any children – she had a share in a farm called Ilsents, and she left part of this to her niece, Mary Mash (wife of John Mash) and after Mary's death, to her children John, Mary, James and Charles Mash. She mentions her sister Elizabeth Sallows, and her niece Susanna Baxter, whom she explains is the daughter of her sister Susanna, wife of Giles Rawlingson of Thorpe-le-Soken. Mary Mash was the daughter of Charles Cardinall – more on him later.
To conclude, then, it was because John Cardinall had been favoured by his cousin James Clarkson that his son, also called John, could call himself "lord of the manor of Tendring" – or at least, a local historian could.
Footnotes

↑

1
When I first found this marriage, I read Susan's surname as Begbe, but looking at it again, it's Begle. It must be a spelling of Beagle, which does exist as a surname.

↑

2
An Elizabeth daughter of John and Elizabeth Beriffe appears in Frating's baptism register, having been born on 26th September, and baptised on 30th. No burial is recorded for her, and another baptism for an Elizabeth of the same parents appears in the same register on 22nd May 1660. It's not clear if these baptisms are for the same child or if the older daughter died before 1660. Note that in the marriage register, an Elizabeth Beriffe of Frating married John Beacon of Colchester on 1st April 1673. However, John Beacon's will names his wife as Frances, and includes his mother-in-law Mrs Beriffe and his brother-in-law Richard Beriffe. Frances herself left a will (Frances Beacon, widow of Colchester, written in 1700, proved in 1704), in which she mentions her brother Richard Beriffe and her sister Mary Brightwell and Mary's children. So it seems the register is in error and it should be Frances Beriffe marrying John Beacon. Elizabeth, the youngest of the Beriffes, might have been as young as 13 at the time of the marriage, and although a girl of 12 could've married at the time, it was vanishingly unusual. Richard Beriffe drew up Elizabeth's settlement when she married James Clarkson, and when Richard died, we are told he was a bachelor: he was "of Morunes in this parish bachelor died on the 13 May 1737 & was buried in the chancel". He makes no mention of any wife, children or grandchildren in his will. He does mention a Samuel Salmon of Great Bromley, though, who may have been related somehow to one of Mary Brightwell's children, but he doesn't say. So it seems more likely that Richard was negotiating on behalf of his sister, and that the register should've said Frances, not Elizabeth, for John Beacon's bride.

↑

3
Elizabeth Beriffe wrote her will on 14th October 1695 and it was proved on 19th October 1706. No burials survive in Frating's parish registers from 1685-1709, so as she died in that period, if she was buried in Frating, no record of it exists. Her son Richard was buried in the church's chancel but if any memorial inscription was placed there, I can find no trace. It is now a private home, so no visit is possible. Unless it's your house and you wouldn't mind me popping in!

↑

4
a version of 'Carrington'

↑

5
There is an error in Tendring's baptism register – it says that 11-year old Henry Wale was buried on 17th September 1725. It must be James' burial, not Henry's, as Henry appears in later documents.

↑

6
Henry Wale married Jane Freeston/e at Colchester St. Mary's at the Walls in 1735