→

→

→

→

The Cardinall family in...
(Note: after first writing this, I realised that the Suffolk Visitation seems to have made two generations of Stephen Cardinalls look like three. I've tried to unpick this but if you see references to three Stephen Cardinalls in this piece anywhere, bear in mind it should be two!)
Although they are the cousins of the Cardinalls in Essex who are my main focus, it's useful to understand who the Suffolk Cardinall were. They have been written about before (The Branston and Cardinall families of Suffolk), but I think there are errors in some of this research.
The 1612 Visitation of Suffolk, concerning the Cardinalls, is mentioned under William Cardinall of Great Wenham (d. 1551). The usual caveat about visitations applies – they rarely have dates on them and we can't assume that because someone is mentioned in, say, the 1558 Visitation, they were born before 1558 – I have seen several people added in afterwards. We also have to bear in mind that the Visitations can contain errors, so should be used as a guide. The four trees A, B, C and D are based on the information in Visitation, but have some extra information added to them by me.
It doesn't take the form of a tree, but is written longhand, but a tree can be drawn from it. It starts off with the Cardinalls of Hadleigh, and then becomes the Cardinalls of Great Wenham. The first tree, for the Cardinalls of Hadleigh, takes this form:

There is far more information on the Cardinalls of Great Wenham, which ultimately becomes the Cardinalls of East Bergholt, and I have broken this down into four separate trees to make it clearer. These trees are based on the information in the Visitation, but have extra information added from other sources. Unfortunately, East Bergholt's parish register for the mid-1550s to 1653 has been lost, but we can grasp an idea of when people died from the dates of their wills. It is approximate, however.
Note that the Visitation makes it look as if there's three generations of Stephen Cardinalls. I think this is wrong and that there's only two. "Steven of Wenham" in the tree above, as son of Steven of Hadleigh" is, I think, Steven of East Bergholt too.
Stephen Cardinall 2nd of Great Wenham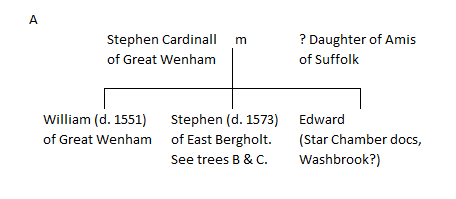 So Stephen Cardinall of Great Wenham, who we see in the first tree as the second son of Stephen Cardinall of Hadleigh (please excuse the different spellings of Steven) married an Amis (sometimes Amyce in other sources). However, I think that Stephen of Hadleigh and the Stephen we see here marrying Amis are the same man. We have a will for William Cardinall of Great Wenham, dated 1551, and he was the father of William (1509-1568).
More on Stephen of East Bergholt in a moment as quite a lot is known about him.
Edward – well… I found a Star Chamber document at The National Archives which mentions Edward Cardinall. There was a dispute between him and William Veysey, over some land that was in Washbrook and Copdock. The Star Chamber dealt with criminal issues, and it appears that Edward accusing Veysey's farm servants of attacking him with a plough share when he protested that they were ploughing his field. I suspect this might be Edward, the son of Stephen Cardinall II, as Copdock and Washbrook are very near Great Wenham and East Bergholt. I have no further information on him, though. However, it seems that this Edward is the same man who married Margery Fawcon and Jane Bendlowes.
Stephen Cardinall of East Bergholt
Stephen married twice, having several children by each wife, so what follows are two separate trees, one for each of his marriages.
First wife: Anne Grith
Anne appears in her father's will, written 20th February 1541/2, unmarried.[1]PCC will of Thomas Grythe or Grithe. There is a Chancery document from 1575, where William, the eldest son of Stephen and Anne, along with William Smythe (son of John Smythe, and his wife Edith – Edith was one of Anne's sisters), were against Thomas Richmond over their grandfather's will.[2]TNA ref: C 78/66/13 It isn't clear if Anne was still alive at this point or not.


The Branstons
Judith's first husband, John Branston, was the son of another John Branston (husband of Catherine), an East Bergholt clothier who died on 24th February 1557/8. John is mentioned in the will, along with his brother Thomas. His other siblings (Agnes, Margaret, Emme, Robert, Symon, Richard and Christopher) appear to have all been underage at the time John Branston senior wrote his will in November 1555. Interestingly, one of the witnesses to the will was a Stephen Cardynall – presumbly Judith's father, but was she married to John Branston junior by this time?
John died in 1582.[3]He wrote his PCC will on 10th January 15812/2, and it was proved on 17th May 1582. His surname is Bramston in the will. He mentions his son John, and his daughters Catherine and Judith. He also mentions Dr. Chapman, to whom he left £20 – this is perhaps the Puritan minister at Dedham, who was also left money by William Cardinall (?-1598). One of the witnesses was Christopher Burrowe – perhaps Ann Cardinall's husband. John left Judith various properties for ten years after his decease, and that these were to pass to their son John.
Judith was married to George Cockerell by 1591-1596 – a Chancery suit, Branston v. Cockrell is dated to that period.[4]TNA ref: C 3/232/7 This is John Branston, the plaintiff, versus George Cockrell and Judith Cockrell his wife, over copyhold property of the manor of East Bergholt. Presumably this third John Branston was the son of John II and Judith, and perhaps there was some issue with the property which would pass out of Judith's hands, into her son's, ten years after her husband's death.
The Burroughs
In 1590, someone called Christopher Burrough initiatiated a Chancery petition against William Cardinall senior, who was lord of the manor of East Bergholt. Burrough was a copyhold tenant of property which was of that manor, and he and others complained that William Cardinall's fees were exorbitant. It is possible that this is Christopher Burroughs, William's own brother-in-law, who had to take that step. A transcription of the Chancery documents can be found on the Oxford Shakespeare site. It is worth noting that Robert Derehaugh makes an appearance here – he married Julian Cardinall, according to the Essex Visitation, daughter of William (1509-1568).
When Christopher Burrough wrote his will on 16th November 1604, he was described as a clothier, and lived at Wix Abbey in Essex. This is significant as Joan Cardinall, a cousin of the East Bergholt Cardinalls, had married Robert Vesey of Wix Abbey. Although by 1604 she and her family were living in Norfolk, it isn't surprising to see Christopher living there – either because he was renting it from Joan's family, or because he had a daughter who had married the new tenant.
Christopher's will is extensive.[5]His PCC will was proved 19th March 1604/5. His name was given as Christofer Burrough, clothier of Wix. PROB 11/105/227 Hayes quire 1-53. It mentions his wife Anne and his son Christopher, and his four underage children: Jonathan, Elizabeth, Sarah and Mary (Marie in the will). It mentions two sons-in-law, Alexander Harris, merchant, and Henry Goldingham, gentleman – sons-in-law could mean they had married daughters of Christopher who are unnamed in the will, or they were what we would now call stepsons. He also mentions Mr. John Burrough of London, without explaining their relationship, and then his brother Nicholas Hedge and his wife Alice. It is possible that Alice is in fact Christopher's sister and so Nicholas Hedge is what we would now call a brother-in-law. He set up an annuity of £3 for the unnamed son of the deceased Richard Kinderley – this may have something to do with the Kenerley family of St. Osyth, which ties in with the Whittakers. Unfortunately Christopher doesn't elaborate on how he is connected to the Kinderleys.
Christopher was owed money by Henry, Lord Windsor – this is possibly the fifth Baron Windor (1562-1605), whose mother was a daughter of John de Vere, 16th Earl of Oxford – the Cardinalls have a connection with the Earl of Oxford, as we know. He also mentions a Mr. Robert Barker, a serjeant-at-law, who also owed him money.[6]Robert Barker was created serjeant-at-law in 1603. He was supported by Lord Windsor and Sir Edward Cooke – Cooke was a nephew of Lettice Knightly/Clipsby/Cardinall. Barker died in Colchester on … Continue reading) We don't know, unfortunately, if the wife Anne that Christopher mentions is Anne Cardinall or not. However, we do see him leaving his copyhold and freehold in East Bergholt, which he holds of William Cardinall, to his son Christopher.
It seems that Christopher was not buried at Wix, even though he died soon after he wrote his will (it was proved a few months later in March 1605). I can find no Burroughs family in the Wix register until the late 1600s.
Christopher Burrough junior died in about 1607.[7]His PCC will, as Christopher Burrowe, had been written on 3rd November 1605 and was proved on 16th May 1607. He was of East Bergholt. He mentions his late father, his late brother John, and his brother Jonathan, then lists the names of a vast number of cousins, uncles and aunts. These include cousins William, Edward and John Cardinall, all of whom inherited £100 each from him; his Hedge relatives including cousins Robert and Jeremy Hedge and Uncle Nicholas Hedge (which implies that Alice, wife of Nicholas Hedge mentioned in the will of Christopher senior, was Christopher senior's sister); his uncle Stephen Cardinall, and his aunt Judith Cockerell.
Second wife: Mary Fisher / Spencer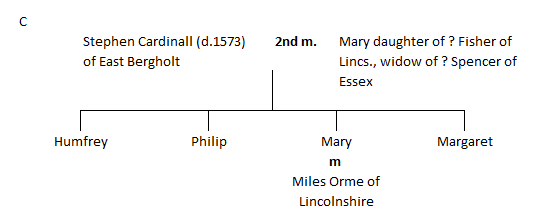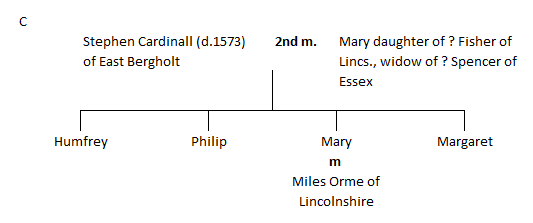 Their daughter, Mary, appears as the wife Miles Orme of Warmington in Northamptonshire as his wife – whether him being of Lincolnshire is a mistake or perhaps he moved from there to Northamptonshire, I don't know. Miles died in 1605.[8]His PCC will was written 11th August 1605 and was proved 16th September of the same year. The will mentions their sons Robert, Miles, Humfrey, Edward and Cardynall, and their daughters Mary, Elizabeth and Martha. Miles mentions his "brethren" Humfrey Orme of London and Humfrey Carnall – the latter is probably Mary's brother, Humfrey Cardinall. The Ormes lived at Eaglethorpe House. It's perhaps worth noting that a Miles Orme was buried in East Bergholt 6th May 1689.
William Cardinall of East Bergholt
William, the son of Stephen Cardinall and Ann Grithe (see tree B above) married Jane Maynard. Although the Suffolk Visitation doesn't tell us, we know from Chancery records that William had a son called William.


He appears to be the William Cardinall who owned the manor of Old Hall in East Bergholt in 1582.[9]Document from Suffolk Heritage Explorer. This also says that a Robert Cardinall was amongst the resident gentry living in East Bergholt in 1673.
Either he or his son was the William Cardinall who was "one of the first Suffolk clothiers to use Spanish wool, sold so much cloth at Antwerp that fine coloured cloths exported from the Stour Valley to the Netherlands were termed 'cardinals'. The Ipswich merchants went on dealing with those of Antwerp during the period from 1569 to 1573 when an embargo on trade between the subjects of Elizabeth and those of Philip II was supposed to have existed."[10]A. R. Penny, The Evolution of Puritan Mentality in an Essex Cloth Town: Dedham and the Stour Valley, 1560-1640, PhD thesis, University of Sheffield 1989. There is more detail on just what this fabric … Continue reading
There is a Chancery dispute, Cardynall v. Bird, from 1646.[11]TNA ref: C 7/80/73 This is William Cardynall v. John Perse and [Unknown] Bird, involving money matters in Suffolk. It could be William junior versus Elizabeth's husband.
Edward Cardynall, a gentleman of Stratford in Suffolk, left a PCC will, proved 31st May 1638, where he left everything to his wife, Susan. His executor was his "brother" John Walker of Bury St. Edmunds – in other words, his brother-in-law, husband of his sister Thomasen. There is a marriage licence dated 19 October 1638 between Edward Clarke, widower, and Susan Cardinall, widow of East Bergholt. They were to marry at Bentley, and Joseph Clarke was their surety. It's possible that Edward Clarke's bride was the widow of Edward Cardynall.
According to volume 6 of The Manors of Suffolk, Robert Derehaugh granted the manor of East Bergholt to William Cardinall senior (presumably the husband of Jane Maynard), and William held his first court in 1582. The manor then passed to William's son. William junior married Anne, a daughter of James Derehaugh of Gedgrave. William junior was a lifeguard of the Earl of Essex and was killed at the Battle of Edghill, in 1642, and the manor passed to his sister, Anne, wife of Henry Parker.
But volume 5 of The Manors of Suffolk, in dealing with the manor of Gedgrave, says that Anne was the sister of James Derehaugh, and that the Anne who married Henry Parker was the daughter of William Cardinall junior and his wife Anne (née Derehaugh).
I'm not sure how we can unpick that, if two volumes of the same series disagree on the construction of the Cardinall/Derehaugh family! The entry on Gedgrave in volume 5 mentions William Cardinall senior and junior, and Faith, wife of Henry Apulton (Appleton). I think this might be the Essex Cardinalls which they mean here – for instance, it says that in 1564, a fine was levied of the manor of Gedgrave in 1564 by William Cardinall junior against Henry Apulton – this suggest to me that they mean William Cardinall (1535-1598) of Great Bromley. According to volume 5, Edward Derehaugh, who held the manor of Gedgrave in 1566, apparently married Susan, daughter of John Clipsby of Norfolk. The elder William Cardinall (1509-1568) married Lettice Knightley, whose first husband had been John Clipsby, so Susan Clipsby is possibly the step-daughter of William Cardinall senior. Volume 5 says that Edward Derehaugh (who died 1599) and Susan Clipsby's son was William Derehaugh.
Two of William Derehaugh's sons were Francis and James, which is where we find ourselves back with the East Bergholt William Cardinalls. Francis conveyed the manor to Arthur Middleton for 1,000 years in trust for debts, which is presumably what comes up in the 1621 PCC will of Francis Derehaugh of Gedgrave – and this will mentions that Francis had a sister called Mary, a widow, who, by the time the will was contested, had married someone called Cardinall. This appears to be William Cardinall – presumably one of the East Bergholt Cardinalls. I cannot find the marriage, but the will of Robert Derehaugh, proved in 1637 says that about Christmas 1615, just before Robert Derehaugh of Gedgrave went overseas, he said verbally that if he didn't leave a will, everything would go to his sister Sexie. This is Mary – who on 29th December 1605, at St Gregory's by St Paul's in London, married William Saxey. He must've died soon after the marriage as her great-uncle, Robert Derehaugh of Gray's Inn, wrote a will on 10th October 1611,[12]PCC will, proved 8th Feb 1613, called her Mary Saxcey, widow, eldest daughter of his nephew William Derehaugh. By the time the younger Robert's will was proved in 1637, Mary had died, and this will mentions that William Cardinall and Mary had had two children – William and Anne, who were both minors.
But what do we do with Richard Cardinall?
In 1574, Richard Cardinall, a clothier of East Bergholt, left a will. He mentions his brother Adam, who had four children: Stephen, Margaret, Adam and Christopher. He mentions a sister, who has married someone called Branston, who has ten children: John, William, Thomas, Katherine, Margaret, Anne, Alice, Edith, Richard and Edmund. He mentions a sister, who married someone called Mellys and has two children, Richard and Katherine. And another sister, Agnes, who had married Robert Dawson, and has four children: Thomas, Stephen, Anne and Christopher. He mentions his brother-in-law Christopher Mellys – he might be the husband of Richard's brother, but brother-in-law didn't always mean that in the past. Thomas Branston is also mentioned as a brother-in-law – and we know that John Branston, who married Judith Cardinall, had a brother called Thomas. Does he mean that his "sister Branston" is Judith, and that his "brother-in-law" Thomas Branston is the brother of his wife's husband?
If only East Bergholt's early register still existed – all these answers might be more straightforwardly answered. As it is, Richard Cardinall's will doesn't entirely fit in with the information we already have. How do we map it onto the Suffolk Visitations, or was he in fact not a child of Stephen Cardinall and Ann Grith at all? Did Edward Cardinall have children?
And it begs the question, too, who was Margaret Cardinall of Bramford, who died in about 1567? She left a will which mentions a vast number of different people – she had a daughter called Joan Bacon, who had several children with the surname Sorell (presumably Joan had previously been married to a man called Sorell); she mentions Catherine, Margaret and Richard, the children of Richard Cardinall of East Bergholt (who, if they are the children of Richard, who died in 1574, presumably had predeceased their father); and several people called Sicklemore. From the 1612 Visitation for the Cardinalls of Hadleigh, we know that William Cardinall married Susan Sicklemore, but how does it all fit?
I wonder if in fact the wills of Richard Cardinall and Margaret Cardinall are red herrings. The 1524 Lay Subsidy Returns for Suffolk show a Richard Cardinall living in East Bergholt, with £2 in goods. Given that Cardinall is an unusual name and we're dealing with people with that name all living in the same geographical area, then the odds are they are related, but trying to map the names in Richard and Margaret's will onto what we find in the Visitation is perhaps rather fruitless. Richard 1524 could be Richard 1574 as a young man, or could be his father, uncle, or brother. The link between them is, I would think, further back, in the late-to-mid-1400s. And at the moment, there's no documents to explain the link. Feet of Fines might help, but they're not currently easy to access.
Originally published: about 2015
Updated: 5th May 2023 – the last paragraph providing information about Richard Cardinall in the 1524 Lay Subsidy Return.
Footnotes

↑

1
PCC will of Thomas Grythe or Grithe.

↑

2
TNA ref: C 78/66/13

↑

3
He wrote his PCC will on 10th January 15812/2, and it was proved on 17th May 1582. His surname is Bramston in the will.

↑

4
TNA ref: C 3/232/7

↑

5
His PCC will was proved 19th March 1604/5. His name was given as Christofer Burrough, clothier of Wix. PROB 11/105/227 Hayes quire 1-53.

↑

6
Robert Barker was created serjeant-at-law in 1603. He was supported by Lord Windsor and Sir Edward Cooke – Cooke was a nephew of Lettice Knightly/Clipsby/Cardinall. Barker died in Colchester on 5th April 1618 and left a PCC will. When he was admitted, he was of Dilston, Suffolk, although the Harleian Society (XIII, 341) says that he was of West Donyland, Essex (Berechurch). (Information taken from The Order of Serjeants at Law: A chronicle of creations, with related texts and a historical introduction, by J. H. Baker, London: Selden Society, 1984.

↑

7
His PCC will, as Christopher Burrowe, had been written on 3rd November 1605 and was proved on 16th May 1607.

↑

8
His PCC will was written 11th August 1605 and was proved 16th September of the same year.

↑

9
Document from Suffolk Heritage Explorer. This also says that a Robert Cardinall was amongst the resident gentry living in East Bergholt in 1673.

↑

10
A. R. Penny, The Evolution of Puritan Mentality in an Essex Cloth Town: Dedham and the Stour Valley, 1560-1640, PhD thesis, University of Sheffield 1989. There is more detail on just what this fabric was like in Eric Kerridge's Textile Manufacturers in Early Modern England.

↑

11
TNA ref: C 7/80/73

↑

12
PCC will, proved 8th Feb 1613