→

→

→

→

→

Daniel Griffin (1793-1844) and...
Daniel was baptised in Aston Clinton, Buckinghamshire, in May 1793, the fourth child of Daniel Griffin (1757-1835) and Sarah Fowler (1762-?), his second wife. Like his other siblings, Daniel went to London to find his fortune. He became a linen draper, like many in his family.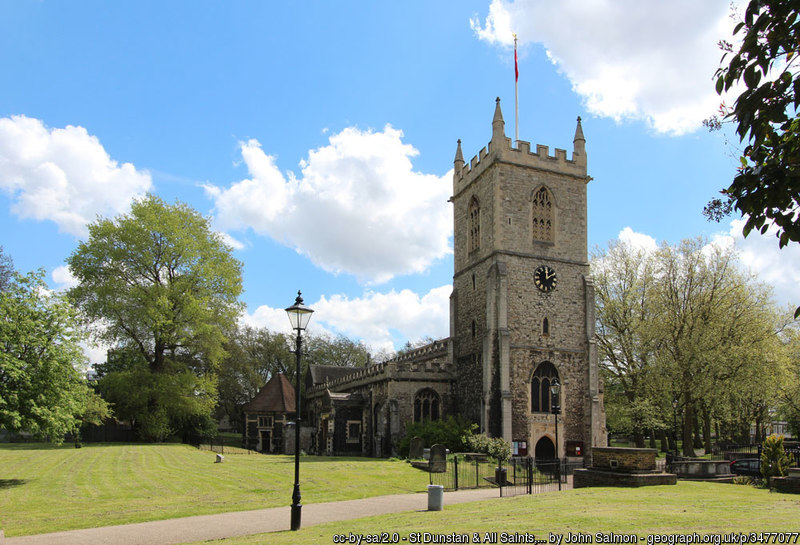 A Colchester connection
On 27th April 1816, he married Rebecca Neville at St Dunstan's church in Stepney. Rebecca had been born in Colchester, Essex in 1789. Daniel's brother William and his sister Sarah would move to Colchester, but the first connection the Griffins had with Colchester, as far as I can tell, is the marriage between Daniel and Rebecca in 1816.
Rebecca was the middle of three children born to William and Martha Neville. Her older sister Anna was born in 1786, and her younger brother William in 1793. They were all baptised at Lion Walk Independent church, the registers recording that the family lived in All Saints' parish in the town. A William Neville, glazier, is recorded in the church's membership lists as joining in January 1784. A note was later added to say that he was of Mile End Road and that he left the church in 1822.
This may well have been Rebecca's father. Although there's a Mile End or Myland just outside Colchester, the famous Mile End Road runs through Stepney. In 1807, Anna married her first husband, a draper called George Maynard, at St Dunstan's in Stepney. When William jnr married his wife Ann Tettrell (or Tittrell) at Colchester All Saints in 1816 (Rebecca was one of the witnesses), he gave his abode as Mile End Old Town. Even though the family had presumably moved to Stepney in or before 1807, Rebecca's father maintained connections with Colchester as in his will, written in 1835, he mentions three houses that he owned in the parish of St Botolph's in the town.
It's possible that Rebecca's parents had married in All Saint's church, Colchester in 1777. William Neville of Fryerning married Martha Hammond there that year. William's will mentions his brother-in-law, William Hammond of Maldon, and there aren't any other marriages between a William Neville and a Martha to be found. It's odd that there are no children recorded as being born to the couple until nine years after their marriage, but it might be that the children had been baptised at a non-conformist church whose records were not preserved. There's no mention of other children in William's will. His daughters Anna and Rebecca are mentioned, and grandchildren, but that's it. His wife Martha was still alive when he wrote his will, and it was proved in 1837. But I haven't been able to find his burial record.
The 1777 marriage in Colchester says that Martha was a minor, and was married with the permission of her father. A Richard Hammond (pre-Top Gear) witnessed the marriage. Looking in Maldon's register for Hammonds, a Richard Hammond married an Ann Tiffen in the town in 1757, and if they were Martha's parents, then she could have been born soon after the marriage and therefore in her late teens or early twenties by 1777. Another Richard Hammond had married in Maldon in 1730, his wife being Martha Hitch, who could be Richard's parents – and he had, perhaps, named his daughter Martha after his mother.
A William Hammond was living on Silver Street in Maldon on 1841 census, a shoemaker aged 71 who had been born in Essex. He died the following year. He is very likely to have been the William Hammond mentioned in William Neville's 1835/1837 will.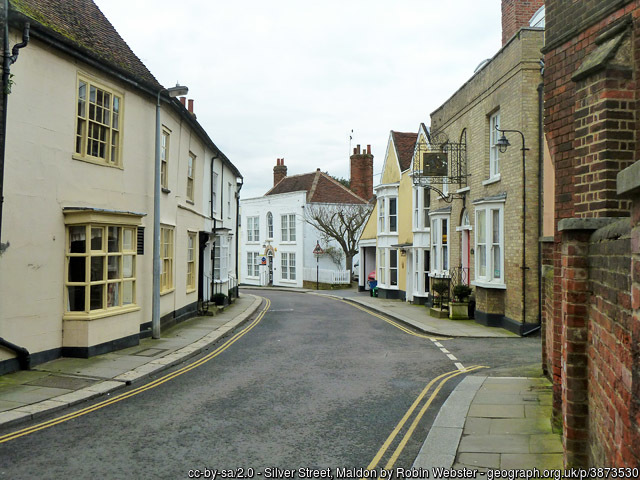 South of the river
Although Daniel and Rebecca were both of Stepney when they married in 1816, by the following year they were south of the river in Walworth. Their only child, Rebecca, was born May 1817. A couple of months later, she was baptised at Camberwell Mansion House Independent Chapel. The register records that she had been born in Lambeth, and that her parents lived in Walworth, where her father worked as a haberdasher.
Daniel had siblings who lived in that area. His sister Sarah was living in Newington when she married John Barrell in 1818. His brother George was living in Camberwell on his death in 1819, and it seems that Daniel could be the Daniel Griffin who, along with John Barrell, witnessed his brother's John marriage in Camberwell in 1820 to Ann Phillis Carr. John Griffin and John Barrell were linen drapers, and as Daniel doesn't appear in any directories at this time, he may have been working for his brother.
His father-in-law, William Neville, mentions property he owned in Blackfriars' parish, Christchurch in Surrey in his will, and when he wrote his will, William was living on Park Street in Camberwell. In 1820, Rebecca's sister Anna had married her second husband, John Bunn, at St Giles' in Camberwell, so it seems that the Nevilles had moved across the river by that time.
On the move
In 1840, Daniel and Rebecca's daughter got married in Nottingham. The city had become an important textiles hub, and as Rebecca jnr came from a family full of drapers, it isn't surprising that she had ended up in Nottingham, where she married a lace manufacturer called Thomas Potter. Meanwhile, Daniel appears in Pigot's Directory for that year in West Ham, in the list of "gentry and clergy."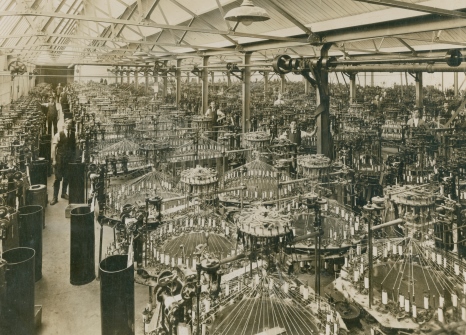 The 1841 census shows us a snapshot of the family at the time. Rebecca jnr and her husband Thomas were living on a street of back-to-backs in Nottingham's Sneinton area called Harold Hill. The street has been long demolished. Her cousin Anna Maynard Neville[1]The daughter of Rebecca senr's brother William. She was named after Rebecca senr's sister. appears on the census with them – it's not clear if she lived with them or was just visting – and they had one servant.
In West Ham, Daniel was working as a "reel cotton manufacturer." The census mentions a cotton factory, and also "Griffin's Cottage". It would make sense for the Griffins to be living at Griffin's Cottage, but it looks from the census as if this was the home of their neighbour – a policeman.
It would be interesting to know more about the reel cotton factory in West Ham. Presumably Daniel ended up in such a job because he is variously described in records as a haberdasher and a linen draper, and there were a lot of drapers in the family. In 1842, the partnership of W H Frearson and J Avery "manufacturers and reel cotton winders" of West Ham and Wood Street, London, was dissolved,[2]Morning Advertiser, 3 Sep 1842 and I wonder if Daniel was working for them. Or if perhaps there was more than one reel cotton factory in West Ham, and Daniel happened to run one of them.
Daniel's death and after
Daniel and Rebecca's first grandchild, Annie Rebecca Potter, was born in Nottingham in 1843. In the next twenty-one years, she would be followed by three more girls and four boys. Sadly, Daniel didn't get to meet any more of his grandchild, as he died of consumption on the very first day of 1844 at 7 Mornington Place in Camberwell. It seems he and Rebecca had moved from West Ham, and he was no longer a reel cotton manufacturer as his death certificate says he was a linen draper.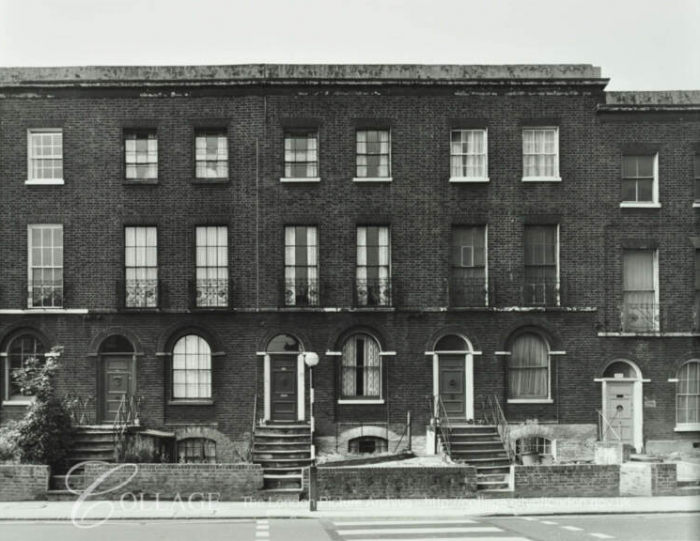 His death was registered by his brother-in-law, Anna's husband John Bunn of Park Street. He was buried in the churchyard at St Giles' in Camberwell.
Daniel didn't leave a will. His widow, Rebecca senr, appears on the 1851 census in Hyson Green, Nottingham, living with her daughter and three grandchildren: Annie Rebecca, Alice Catherine and Helen Maude.
Rebecca senr died in August 1858 in a house on Park Street in Camberwell. It's likely she was living, or perhaps staying with her sister Anna, who lived on the same road. She was buried a Camberwell Old Cemetery, and Anna would be buried in the same plot when she died in 1866.
Thomas Potter died in 1869 at the age of fifty-three. Their youngest child, Anna Rebecca, was only five.[3]Annie Rebecca had died in 1851, hence the recycled name in honour of the two Neville girls. There was a son called Daniel Griffin Potter born in 1851, and another called Charles Neville Potter who … Continue reading Rebecca continued to live in Nottingham, where she died in 1896 aged seventy-nine.
When Rebecca's aunt Harriet Rodway (born Harriet Griffin) died in 1907, she left her watch and chain and her silver spoons marked with an "O" to Helen Maude, who by then had married a man called William Day Oakley. Having a surname beginning with O might be what prompted Harriet to leave her O spoons to Helen. Helen was working as a matron in Castle Donnington, and I wonder if there's a link between Helen's occupation and the fact that Harriet and her husband had turned their own house into a convalescent home.
There are no doubt many stories to be told about the other children of Thomas Potter and Rebecca Griffin, but I will have to leave that for their descendants. A couple of the sons apparently vanish from the census, which might indicate that they moved overseas. If you're reading this and you know what happened to them, please get in touch.
Love from, your distant cousin.
First published: 9th August 2020
Footnotes

↑

1
The daughter of Rebecca senr's brother William. She was named after Rebecca senr's sister.

↑

2
Morning Advertiser, 3 Sep 1842

↑

3
Annie Rebecca had died in 1851, hence the recycled name in honour of the two Neville girls. There was a son called Daniel Griffin Potter born in 1851, and another called Charles Neville Potter who was born in 1859, so the Potters were making sure Rebecca's family names lived on.